No change to Holyrood 'golden goodbye' rules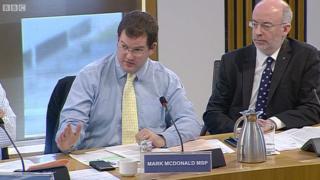 The Scottish Parliament will not be reviewing payoffs to former government ministers despite outcry over a "golden goodbye" for Mark McDonald.
Changes were demanded after it emerged that Mr McDonald would get £7,000 despite admitting causing a woman "considerable distress and upset".
Holyrood's management group of MSPs agreed to look into the matter.
However, they found that they had "no discretion" over payments and said it was down to MSPs whether to take them.
Opposition parties subsequently called on Mr McDonald to donate his payoff to charity.
The 37-year-old quit as early years minister in November 2017 saying that "my behaviour might have made others uncomfortable or led them to question my intentions".
The Aberdeen Donside MSP was later suspended from the SNP after "new information" came to light, and is sitting as an independent member while an investigation is conducted.
'No discretion'
Under current rules, government ministers who leave office are entitled to a quarter of their salary as a "resettlement grant" - amounting to £7,270 in Mr McDonald's case.
Members called for changes to these rules, saying it was "clearly wrong" that Mr McDonald "should pocket this payment considering the circumstances of his departure".
However, after a meeting of the Scottish Parliamentary Corporate Body management group, a spokeswoman said that at present the group had "no discretion in relation to the making of payments".
She added: "They agreed not to review the terms of the scheme at this point and noted it was a matter for individual MSPs whether to accept any payments made."
Labour subsequently called on Mr McDonald to consider giving his payment to charity, "preferably one that supports the victims of harassment".