Man fined over 'Jo Cox' death threat to Aberdeenshire MSP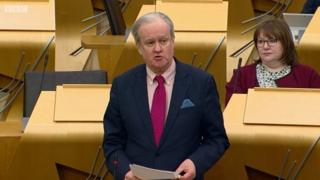 A man has been fined £2,600 after he was found guilty of making a death threat to MSP Stewart Stevenson.
Mr Stevenson was holding a constituency surgery in Aberchirder in August 2016 when William Curtis made the threat.
During a row over the running of a fishing company, Curtis told Mr Stevenson that he and fellow SNP representative Angus MacNeil should "remember what happened to Jo Cox".
Sheriff Robert Dickson said this was a "vile and evil" reference to make.
MP Mrs Cox was murdered by a constituent in her Batley and Spen seat two months earlier, and the sheriff said using this reference would be "exceptionally alarming" to a politician.
Peterhead Sheriff Court heard that Curtis, a fishing boat skipper, approached Mr Stewart at a constituency surgery being held in a mobile caravan in the centre of Aberchirder on 16 August 2016.
During this meeting, he demanded that the MSP involve himself in a dispute he had with Angus MacNeil, the MP for the Western Isles, over the running of a fishing company.
Curtis declared that he was contemplating making a citizen's arrest and demanded Mr Stevenson act, saying he had 14 days to do so.
He then told the politician, "remember what happened to Jo Cox".
'Vile and evil'
Mr Stevenson was "very concerned and frightened" by the remark, which he considered to be "a threat that he and Mr MacNeil could be physically attacked".
Sheriff Dickson told Curtis that "any form of death threat is a serious matter", saying that it would have been "exceptionally alarming" for Mr Stevenson to hear.
He said: "This was not an outburst made in temper. It was a cold, calculated threat made in a calm tone and was all the more terrifying because of this. It was made deliberately in order to cause fear and alarm and it did so. It was particularly effective because the tragic death of Jo Cox was at that time so fresh in everybody's memory.
"Speaking of the death of somebody who appears to have been a highly respected and hard-working MP as a method of threatening other politicians was vile and evil.
"The courts have a duty to make it clear to you and others who try to frighten, terrify or alarm others that such behaviour will never be acceptable. Everybody is entitled in this country to live free of fear for their safety and for the safety of others."