MSP James Dornan to run for SNP deputy leader role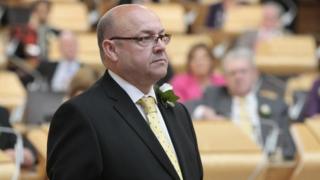 An SNP MSP has said he intends to stand for his party's deputy leadership.
James Dornan, who represents Glasgow Cathcart in the Scottish Parliament, said he is seeking nominations for the post.
He is the first candidate to declare since Angus Robertson resigned from the role eight months after losing his Westminster seat.
Mr Dornan is a former Glasgow city councillor who was elected to Holyrood in 2011.
He is convenor of the Scottish parliament's education and skills committee.
Revealing his intentions on social media, Mr Dornan said: "I would like to announce that I will be seeking nominations for the position of Depute Leader for the Scottish National Party, when the process commences."
Mr Robertson, who was the MP for Moray, said on Saturday he was standing down to pursue "new career opportunities".