Minister opposes live animal exports ban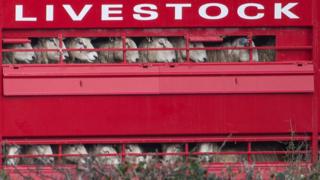 A ban on live animal exports would cause "substantial harm" to Scotland's livestock sector, Rural Economy Secretary Fergus Ewing has said.
The UK government is understood to be considering ending the export of live animals for slaughter, and will launch a consultation in the spring.
Mr Ewing said Scotland would "not be participating" in any such scheme.
Currently, live animal exports from Britain and Europe are controlled by an EU regulation.
If the UK wanted to put further restrictions on live animal exports, it could do so while it is still in the EU.
But if it wanted to fully ban them, it would not be allowed to do so under the current EU single market rules.
A Private Members Bill on the issue of livestock exports was due to be heard at Westminster on Friday, but was been withdrawn by its sponsor, former Conservative minister Theresa Villiers.
She said UK Environment Secretary Michael Gove was looking very seriously at banning the trade.
Responding to the UK government's plans, Mr Ewing said: "Let me be absolutely clear, this is one UK-wide framework the Scottish government will not be participating in. I will not support anything that creates further challenges or difficulty for our farming sector or puts Scottish agriculture at a disadvantage."
Mr Ewing said a ban on exporting live animals would also damage farming in areas such as the Western Isles, Shetland and Orkney, as well as trade with Northern Ireland.
He added: "The Scottish government will therefore not support the banning of live exports of livestock, but will remain committed to the welfare of all animals during transport adhering to the current rigorous standards which apply - standards and regulations provided by the EU, that are already world class and protect us all through animal, plant and chemical health measures and enabling our produce to be traded around the world."
A spokeswoman for the UK Department for the Environment, Food and Rural Affairs said: "We have some of the highest animal welfare standards in the world and are going further, by raising maximum sentences for animal cruelty to five years and introducing mandatory CCTV in abattoirs.
"We have a clear manifesto commitment to take early steps to control the export of live farm animals for slaughter as we leave the EU and are considering all options."