Labour suspends councillor in Sarwar 'Islamophobia' row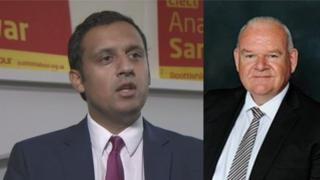 Scottish Labour has suspended the leader of its South Lanarkshire Council group after MSP Anas Sarwar claimed racist comments were made about him.
Mr Sarwar said a councillor told him during his leadership bid that he could not support him as "Scotland wouldn't vote for a brown Muslim Paki".
Scottish Labour confirmed that Davie McLachlan had now been suspended by the party pending an investigation.
Mr McLachlan has been approached for comment.
Mr Sarwar spoke out about "everyday racism and Islamophobia" on Tuesday, ahead of launching a cross-party group aiming to tackle the issue.
He claimed one example had been a senior councillor who cited his race while discussing his leadership prospects, saying: "He said he didn't believe he could vote for me, because in his words 'Scotland wouldn't vote for a brown Muslim Paki'.
"That was obviously extremely hurtful to hear him say that, and when I challenged him he said he was engaging in 'pub banter'.
"I'm not sure which pubs he occupies or who his circle of friends are, but I think he has to reflect on that going forward."
'Full details'
Scottish Labour responded to this by saying that the "reported behaviour falls well short of what we expect from any member or elected representative of the Labour Party".
They have now announced that Mr McLachlan "has been suspended by the Labour Party, pending an investigation".
Mr Sarwar said he had "provided in writing the full details of what was said to me" to party bosses.
He said it was "now for the Scottish Labour Party to take the next step as regards to an investigation".
He added: "I stress that this is bigger than any one individual or one organisation. This is about challenging the institutional prejudices that impact on workplaces, campuses and classrooms across the county."