New law on gender balance passed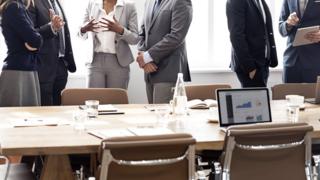 New legislation that aims to ensure an equal gender balance on many public sector boards has been passed by the Scottish Parliament.
Women make up just over 50% of the Scottish population, but currently make up only 45% of public board membership.
The new law sets an objective for at least 50% of non-executive members on all boards to be women by 2022.
The legislation was passed by 88 votes to 28, with the Scottish Conservatives voting against.
It will apply to colleges, universities and some public bodies including health boards, enterprise agencies, the Scottish Police Authority and the Scottish Fire and Rescue Service.
Scottish Conservative members opposed the move, arguing that "quotas are not the way forward", but the bill was backed by SNP, Labour, Green and Liberal Democrat MSPs.
'Important step'
It makes Scotland the only part of the UK with a statutory target for the proportion of women on public boards.
Equalities Secretary Angela Constance said the legislation was an "important step on our journey towards gender equality, towards creating a fairer Scotland, and towards shattering the glass ceiling once and for all."
Under the new rules, where a minister is faced with two or more equally qualified candidates for a public board position, they will be required to give preference to female candidates as a "tie-breaker".
Ministers and public bodies will also be required to take steps to encourage women to apply for non-executive positions, and public authorities will be required to publish reports on progress towards achieving gender balance.
Campaign group Women 50:50 has backed the legislation, with chairwoman Talat Yaqoob saying that public services are used by a disproportionately high number of women.
She added: "As such, it is only right that women should make up a fair share of the decision makers."
Emma Ritch, executive director at Engender, stressed it was also "crucial that our public boards in Scotland include women from different socioeconomic backgrounds, black and minority ethnic women, and lesbian, gay, bisexual and transgender women".