Matheson rejects claims of 'meddling' with police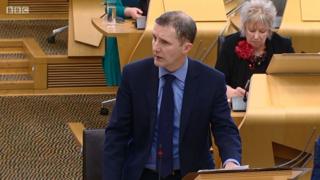 Scotland's justice secretary has denied the government has been "meddling" with policing and rebuffed calls to quit.
Michael Matheson has been caught up in a row over whether he interfered with the Scottish Police Authority over the future of the chief constable.
The police watchdog also warned civil servants not to interfere with her independence over publishing a report.
The Scottish Conservatives and Labour both now want Mr Matheson to resign over his handling of the police.
But Mr Matheson insisted the government is committed to the independence of policing bodies, and said he would continue in his job.
Emails obtained by the Sunday Post newspaper showed Police Investigations and Review Commissioner (Pirc) Kate Frame charged civil servants with "governmental interference with my independence" after they suggested she delay publishing a report.
Donald McGillivray, deputy director of the Scottish government's police division, had suggested that she should wait until the misconduct investigations into Chief Constable Phil Gormley had "moved on a bit" before publishing an audit of Scottish Police Authority complaints processes.
Pirc is now undertaking five probes into claims of misconduct against Mr Gormley, among seven complaints lodged against the chief constable overall.
The watchdog's critical report was ultimately published as planned on 29 December, but has sparked a fresh political row after Ms Frame's comments came to light.
Mr Matheson told MSPs that officials had "no knowledge of the contents of the audit report" at the time the email was sent, and stressed that it was "legitimate" for government to interact with bodies to flag up "potential risks which may be relevant".
He said the final decision to publish was for Pirc, saying he "fully supported" the independence of the watchdog and had "at no point" interfered in that.
He repeatedly referred back to the Pirc conclusion that "there has been no instance of government interference and the release of the document went ahead within the planned timescale".
'No defence'
However Labour's Daniel Johnson said the "crucial question" was whether the government had tried to interfere.
He said that "the attempt to interfere and failing is morally no different to attempting to interfere and succeeding", saying any attempt would be "completely unacceptable".
This was echoed by Conservative justice spokesman Liam Kerr, who said "it is no defence to say that the government tried to stop it and failed - an attempt to interfere is still interference".
He said: "We now know that there is a deeply embedded culture of secrecy and central interference and that tone is set from the top. Michael Matheson should have the good grace to realise what that means.
"He has fallen short of the standards expected of high office. He does not have the moral credibility to do his job. When will he do the honourable thing and resign?"
Mr Matheson said the honourable thing would be to continue to do his job properly.
He also denied claims of a "cover-up", saying: "The emails were brought to my attention on Thursday 25 January for the first time. Did I have knowledge of the engagement between by official and Pirc? No, I had no knowledge.
"Did I ask them to make representations? No I did not. I hope that clarifies things."