Record number of operations cancelled in Scottish NHS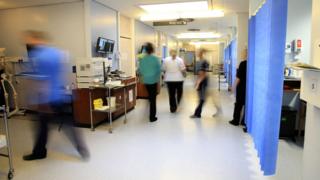 A record number of planned operations have been cancelled this month due to non-clinical factors such as a lack of beds, staff and equipment.
Figures obtained by the BBC reveal two health boards accounted for 60% of all operations cancelled for non-clinical reasons.
NHS Lothian cancelled 423 operations and NHS Greater Glasgow and Clyde 296.
Their total was higher than the number for all health boards for the whole of January last year (704).
The rapid rise in flu cases at the start of this year and a spell of severe weather have led to pressures on emergency care which have resulted in health boards having to postpone planned elective operations.
'Care pressures'
A Scottish government spokeswoman said: "Boards have been working to keep cancellations to a minimum, supported by an extra £22.4m from the Scottish government for winter and unscheduled care pressures.
"We've made clear to boards that patients with the greatest clinical need, such as cancer patients, should not have their operations cancelled.
"During January, flu rates have been between four and five times higher than the same period last year. However, we have not sanctioned a blanket cancellation of planned operations as has happened in NHS England."
NHS Lothian said January was a very busy month and it was "experiencing significant pressures this winter because of a high number of complex cases and respiratory illness".
One consultant told the BBC the picture in orthopaedic surgery was "absolutely catastrophic."
Hamish Simpson, professor of orthopaedics and trauma at the University of Edinburgh, called for separate hospital units for elective patients and acute emergencies so beds would always be available after surgery.
Prof Simpson said: "There are a massive number of patients who are in severe pain who can't have the treatment they need because of the pressures of the bed problem that we have."
He said the problem had been "steadily increasing" over the past two years and it would be a "massive mistake to ascribe it to a winter crisis".
The BBC statistics show there were 1,244 operations cancelled in the three weeks to 26 January.
Since May 2015, when the figures first began being published, the highest figure was 868, in January 2016.
'I'm sorry, it's been cancelled'
Reeta Kumar from Broxburn in West Lothian was scheduled to have knee replacement surgery at The Royal Infirmary of Edinburgh on 18 December.
She had been put in a wheelchair, wrapped in a blanket and her leg had been marked for surgery when she was told the operation would not go ahead.
The 68-year-old told BBC Scotland: "We waited and then my surgeon came with a very frustrated face and he said 'I'm sorry, it's been cancelled'.
"I was so shocked."
"My daughter asked what happened and he said 'we have no bed'."
Ms Kumar said: "I could not have believed this could happen. I have such great faith in the NHS because I have been ill so many times and they have done so many good things for me.
"I was very frustrated because you are psyched up. You get prepared for everything that is going to happen. Then there is uncertainty about when it is going to happen."
She has been told the operation will not take place at the start of February.
Elective operations
The NHS statistics on cancelled operations in January will not be released for another month so BBC Scotland asked all health boards to provide figures for the three weeks, ending on 26 January.
All 14 NHS boards replied and the total number of operations cancelled for non-clinical reasons came to 1,244.
Waiting times
It is not known how many elective operations were scheduled but it is thought to be broadly similar to the 27,879 figure for January 2017, when 704 were cancelled.
NHS Lothian cancelled the most operations by far - 423. Then came Greater Glasgow and Clyde with 296 and Highland with 149.
NHS Fife, which cancelled 80 operations in the first two weeks, only postponed eight in the week to 26 January.
Grampian, which did not postpone any operations in the week to 12 January, was forced to cancel 35 the week after.
NHS Borders cancelled 44 planned operations. It said that the main reason was that its hospital remained exceptionally busy with very sick people.
This meant it did not have sufficient beds available to safely admit post-surgical patients.
Meanwhile, NHS Forth Valley with just seven and NHS Dumfries and Galloway with 11, had the fewest cancelled operations. NHS Lanarkshire also fared well with just 18.
The latest weekly NHS waiting stats for A&E show that 86.6% of people were dealt with within the four-hour target in the week ending 21 January.
While this is still well below the 95% target, it is an improvement on previous weeks.
In Scotland, there has been no blanket suspension of routine operations as there has been in England.
But winter pressures are still having an impact on routine care.