Scottish Labour sets out 'radical' new tax proposals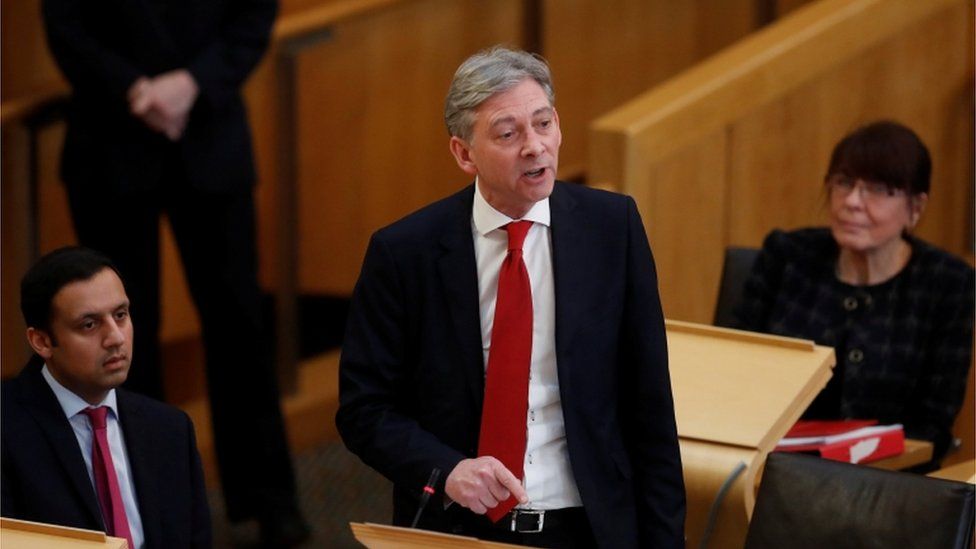 Scottish Labour has put forward budget proposals to raise and spend an extra £960m with radical changes to taxation.
Finance Secretary Derek Mackay is to put his draft budget plans, which include a redrawing of the income tax system, to a vote of MSPs on Wednesday.
Labour has now set out proposals that would alter the system even further, with higher taxes and spending.
Leader Richard Leonard said "radical" use of Holyrood's tax powers could "end the failed experiment of austerity".
However, Mr Mackay said the "fantasy figures" were "riddled with blunders" and would actually raise far less money than Labour claim, while the Scottish Conservatives accused both parties of "hammering" taxpayers.
Mr Mackay set out his budget proposals in December, and has been negotiating with opposition parties to find support for his plans since.
With the SNP a minority government, a deal of some kind will need to be struck ahead of Wednesday's stage one vote on the budget bill.
Ministers had previously been critical of Labour's approach, after the party attempted to table a motion of "no confidence" in the draft budget - but Mr Mackay said he was willing to "engage constructively" with any proposals put forward.
One day before MSPs vote on the draft budget for the first time, Labour has put forward its proposals - with a radical redesign of taxation front and centre.
Scotland currently has three income tax bands - a 20p basic rate, a 40p higher rate kicking in at £43,001 and a 45p additional rate for earnings over £150,000.
The government has proposed redrawing the system by adding a 19p "starter" rate and a 21p intermediate rate, while adding 1p to the higher and additional rates, creating a five-band system which would see many Scots actually pay less tax than they do now. This would raise an extra £164m directly, rising to £366m when combined with threshold changes from previous years.
Labour's proposals go a step further, adding a sixth band in the form of a 50p top rate of tax for earnings over £100,000 and redrawing the thresholds of the other higher rates. They say this would raise £540m more than Mr Mackay's proposals.
Ministers have contended that pushing the top rate of tax higher would fail to actually raise any extra funds, as higher earners could potentially change how they work and are paid, or move their liabilities out of Scotland entirely.
But Scottish Labour insisted its plans could raise hundreds of millions of pounds for public services, while still cutting tax for lower earners.
As well as the income tax changes Labour is proposing a range of additional levies, including a tourist tax and a land value tax, both to be collected by councils, and a "social responsibility levy" on bars, pubs and supermarkets for every unit of alcohol sold.
The party has also proposed taking an extra £176m from the non-domestic rates pool - something ministers have been reluctant to do until the current £297m deficit in the pool is cleared.
This money would then be spent raising public sector wages, pumping an extra £100m into the NHS and £545m into councils, and increasing child benefit by £5 per week.
Mr Leonard said it was "time to end the failed experiment of austerity by making radical use of the powers available to the Scottish Parliament".
He said: "It's not good enough to tinker around the edges with as many as 260,000 children living in poverty. We should be looking at a budget that stops the cuts to lifeline services and increases child benefit.
"Labour is willing to ask the wealthiest few to pay more to benefit the many, and redistribute real economic power to local communities. The question now for other parties is do they agree with us?"
Mr Mackay, finance secretary, said Mr Leonard's income tax proposals "clearly do not take account of behavioural change", which he said would shave "tens of millions of pounds" off the eventual figure as higher earners adjusted to the new system.
He said the tourist tax and land value tax would both require new legislation to set up, meaning they would "not raise a single penny next year". And he said Labour had "fundamentally misunderstood how non-domestic rates work", noting that "councils already retain the full amount raised" by the levies.
Mr Mackay added: "If Labour had wanted their proposals to be taken seriously then they would have submitted them for scrutiny months ago - rather than wait until 48 hours before MSPs vote on the budget bill to produce a wish list scribbled on the back of a fag packet."
Labour's proposals leave the Scottish Conservatives as the only party opposing tax increases at Holyrood.
Tory finance spokesman Murdo Fraser said Mr Leonard "will have worn out the letters T, A and X on his keyboard setting out these proposals".
He added: "Like the SNP and the Greens, it seems Labour's only idea for generating more cash for public services is hammering hard workers. Instead, these parties should be seeking to make Scotland a low-tax, high-wage economy which is attractive to investors and skilled workers across the world."
The Scottish Greens, roundly seen as the most likely budget deal partners for Mr Mackay, said the last-minute submission from Labour was "stretching the meaning of 'better late than never' to breaking point".
Co-convener Patrick Harvie said his party's income tax proposals had "fundamentally shifted both SNP and Labour policy".
He said: "Across the parliament, only the Tories now argue against a radical redesign with more rates and bands, to raise revenue while protecting people on low and middle incomes. Whatever else happens with the budget over coming weeks, I'm delighted that we have created this major shift."
The Scottish Lib Dems agreed that it "will not fill the public with confidence" that Labour had come up with their plans only hours before the stage one vote.
Leader Willie Rennie said: "There's a huge whiff of wishful thinking to Scottish Labour's plans and it is far from clear that all parts of Scotland will see a boost as a result.
"The public need to have confidence that we are mindful of their personal finances as well as the public purse. All parties have a duty to get that balance right."
Related Internet Links
The BBC is not responsible for the content of external sites.