Peers urged to make Brexit bill changes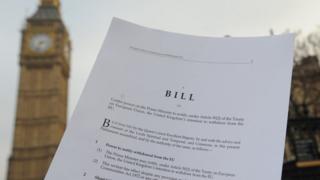 Scottish and Welsh ministers have briefed peers on why they believe Brexit legislation needs to be amended.
Scotland's Brexit minister Michael Russell and his Welsh counterpart Mark Drakeford outlined their concerns, at a meeting in London.
Both governments have said the EU Withdrawal Bill in its current form amounts to a "power grab".
The House of Lords constitution committee has called on the UK government to amend the bill.
Amendments promised when the bill was before MPs in the House of Commons did not transpire, meaning that changes will have to be made in the Lords, where the SNP does not have any members.
Mr Russell and Mr Drakeford attended the meeting ahead of the bill's second reading in the Lords on Tuesday and Wednesday.
Speaking ahead of meeting, Mr Russell said: "Along with the Welsh government, we have made clear we are unable to recommend consent to the EU Withdrawal Bill in its current form.
"That's because it disregards the devolution settlement by allowing the UK government to take control of clearly devolved policy areas like farming and fishing.
"The Scottish and Welsh governments published amendments to the bill as far back as September to fix this issue."
Mr Russell told the BBC's Good Morning Scotland radio programme, that while the UK government had promised to make amendments to the bill, time was getting short and nothing had happened so far.
He said: "The joint ministerial committees haven't met. There was meant to be a joint ministerial committee this month, it hasn't taken place.
"So we proceed as we have said we will proceed from the very beginning. We asked for an amendment. We said if there was no amendment in the Commons, we would argue for an amendment in the Lords, jointly myself and Mark Drakeford. We are briefing peers today.
"We will also be bringing forward our own continuity bills, which are the attempts by our own chambers to actually resolve this issue."
'Fundamental flaws'
A report from the House of Lords constitution committee, meanwhile, has also concluded that the bill as it stands has "fundamental flaws".
It said: "The committee find that the bill risks undermining the legal certainty it seeks to provide, gives overly-broad powers to ministers, and has significant consequences for the relationship between the UK government and the devolved administrations."
The committee has proposed a number of recommendations to "improve the bill to make it more constitutionally appropriate and fit for purpose".
A UK government spokesman said: "We have been clear there will be a significant increase in decision-making powers for Scotland, Wales and Northern Ireland when we leave the EU.
"The devolved administrations agree we will need common frameworks in some areas and we are in ongoing, detailed discussions with them about this."