Major reform planned for Crown Estate in Scotland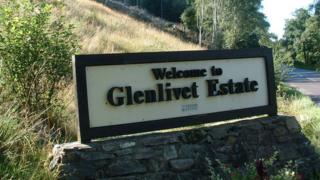 The Scottish government has introduced a bill to parliament which sets out how it intends to reform the Crown Estate in Scotland.
Powers over the estate were devolved to Scotland in April 2017 and it's been operated under interim management since then.
The bill will create opportunities for local authorities and community groups to run parts of the estate.
But farmland tenancies will be centrally controlled.
The total value of the Scottish Crown Estate's assets was estimated at £275.7m last year. It generates an approximate gross annual revenue of £15m.
Among the assets in Scotland are 37,000 hectares of rural land including the Glenlivet, Fochabers, Applegirth and Whitehill estates.
It also holds almost half of the foreshore including some ports and harbours.
'Diverse portfolio'
Environment Secretary Roseanna Cunningham said: "The estate consists of a diverse portfolio, including thousands of hectares of rural land, half of Scotland's foreshore, urban property and seabed leasing rights for activities such as renewable energy.
"That is why this bill recognises that a 'one size fits all' approach is not practical, laying the foundation for changes in the management of individual assets.
"I believe strongly in maximising the benefits of the Crown Estate for our communities and the country as a whole, while ensuring assets are well maintained and managed, with high standards of openness and accountability.
"That's why I have put these principles at the very heart of this important bill."
Scotland's island councils, in Orkney, Shetland and the Western Isles, have campaigned for local control of the Crown Estate.
The leader of Orkney Islands Council James Stockan, speaking on behalf of the three councils and the Our Islands Our Future campaign, said: "Shetland Islands Council, Orkney Islands Council and Comhairle nan Eilean Siar have worked hard over many years to put forward the case for local control of the seabed and of revenues currently paid to the Crown Estate and for local management of the foreshore and sea bed for the benefit of our communities.
"Although we have yet to consider fully the detail of this new bill, we recognise it is an important milestone and look forward to continuing our engagement with Scottish government, Crown Estate Scotland (Interim Management) and Cosla in the coming weeks and months."
Linsay Chalmers, from Community Land Scotland, said: "We very much welcome the bill and are pleased to see that there will be powers to transfer the management of assets to communities and that the management of assets can be used to contribute to economic development, regeneration, social and environmental wellbeing and sustainable development.
"It is also good news to see that these can be taken into account when deciding to transfer or lease an asset at less than market value."