Former SPA chairman felt he had 'no choice' over Gormley's return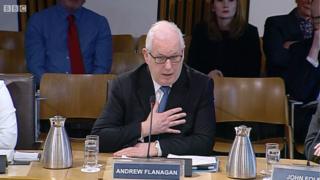 The former chairman of the Scottish Police Authority has said he felt he was left with "no choice" but to halt plans for Chief Constable Phil Gormley to return to work.
Mr Gormley is on special leave amid a misconduct investigation.
The SPA board decided to allow him to return to work last November, but that was reversed after Andrew Flanagan met Justice Secretary Michael Matheson.
Mr Matheson insists he did not seek to overturn the decision.
Mr Flanagan told a committee of MSPs that Mr Matheson had told him that it would be a "bad decision" to bring Mr Gormley back.
But he insisted he did not feel "directed" to halt the chief constable's return.
Mr Gormley's lawyers have accused Mr Matheson of acting "unlawfully" by intervening in the case, while the Scottish Conservatives have called for an inquiry into his handling of the affair.
Questioned by MSPs on Holyrood's public audit committee, Mr Flanagan - who quit the position of SPA chairman in 2017 following criticism from MSPs - said he had met Mr Matheson twice in the wake of the decision to bring Mr Gormley back.
This had been decided in a private meeting of the SPA board on 7 November, two days before Mr Matheson was informed.
Mr Flanagan said that in a one-on-one meeting with the justice secretary, "it was clear to me he did not want the chief constable to return at that point".
He said Mr Matheson had described the move as a "bad decision", and added: "I think he indicated that he thought it was a risk to the stability of the senior team."
However in a subsequent meeting accompanied by civil servants, Mr Flanagan said the justice secretary changed his approach and only questioned matters of process.
Mr Flanagan said that when he raised the "bad decision" comment, Mr Matheson "told me not to bother with that".
Pressed by MSPs on the matter, Mr Flanagan said he felt the justice secretary had made a "value judgement", but denied that he had made an "explicit" bid to have the decision over Mr Gormley's return to be overturned.
He said: "I couldn't say I was directed to, but the position I was in, I felt I wasn't in a position to move forward."
Asked if he felt he had been left with "no choice" but to change his position in light of the questions posed by Mr Matheson, he replied "yes".
Mr Flanagan confirmed that the justice secretary had not asked him to change his mind about reinstating Mr Gormley, saying: "He didn't request that - he said he thought there were steps we should be taking before it should take place."
He also defended Mr Matheson over the fact no minutes were taken of the meeting, saying he would not have expected a formal record to have been taken.
'Entirely legitimate'
Mr Matheson has insisted that he raised "entirely legitimate" questions, and only on "clearly deficient" matters of process - saying he did not intervene in an operational decision.
He said he had concerns about the fact the Police Investigations and Review Commissioner (Pirc) , which is probing the allegations against Mr Gormley, had not been consulted.
And he said he was worried that there was not a "robust" plan in place to protect staff involved - issues which he said were "simply unacceptable and could not be defended".
Mr Matheson has also won the backing of Mr Flanagan's successor at the SPA, Susan Deacon, who told MSPs on Tuesday that he would have been "failing in his duty" had he not raised questions.
The justice secretary has been criticised by opposition MSPs, with Scottish Conservative leader Ruth Davidson raising the affair at first minister's questions for a second consecutive week.
Ms Davidson accused the justice secretary of "leaning" on Mr Flanagan in the meetings.
She said: "Last week the first minister stood here and told me that Mr Matheson did not intervene, but doesn't the evidence of this morning show there is a different story there, doesn't it make clear that, bluntly, the justice secretary leaned on the SPA?"
However, Ms Sturgeon said Mr Flanagan's evidence showed "no such thing", and accused the Conservatives of "rank hypocrisy" over the matter.
She said: "The former chair of the SPA actually said at the committee this morning that he hadn't been requested by the justice secretary to change his decision.
"He had no option in his view but to change his decision because he couldn't answer the most basic questions about the process that had been followed."
Labour meanwhile have said Mr Matheson "must consider his position" as justice secretary for "repeatedly obscuring the true details of exactly what happened" between himself and Mr Flanagan.
A spokesperson for Mr Gormley's legal team later hit out at the "unnecessarily protracted process" and criticised the fact that that the chief constable has yet to be interviewed, seven months after he volunteered to step aside to allow the Pirc to secure evidence.
A statement also described the evidence at the committee about the disagreement between Mr Matheson and the SPA as of "serious concern".
It concluded: "The chief constable's professional reputation, career and welfare have been eclipsed by a public battle of wills between the SPA and the Scottish government.
"It demonstrates that the present system for investigating complaints against the chief constable is unworkable and requires a fundamental review.
"It is hard to see how any fair process can now follow given such public disagreement."