Jack McConnell: 'Ego and ideology' blocking Scots-UK Brexit deal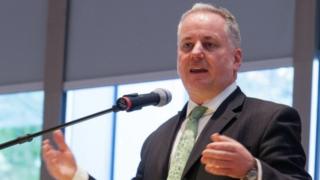 Former first minister Jack McConnell has said "ego and ideology" are getting in the way of a Brexit deal between the Scottish and UK governments.
The two governments are at loggerheads over what happens to powers which are returning from Brussels post-Brexit.
Consideration of the EU Withdrawal Bill is to begin in the House of Lords, with UK ministers promising amendments.
Lord McConnell wants the majority of EU powers in devolved areas transferred to the Scottish Parliament.
There is a stand-off between the two governments over what should happen to 111 powers, including agriculture and fishing, which are not reserved to Westminster but which are currently exercised in Brussels.
When Brexit happens, the Scottish government wants to take over these responsibilities - but the UK government is against full transfer.
In a BBC Scotland interview, Lord McConnell described the situation as "ridiculous". He said "common sense" would see the majority of the powers automatically devolved, with governments reaching shared decisions in some areas.
The Labour peer said the UK should only reserve a power where there's a "very specific and clear reason" for doing so. But UK ministers want to ensure common standards are retained across the UK market.
Scottish ministers accuse their UK counterparts of attempting a Brexit "power grab", and say they will recommend Holyrood withholds consent for the EU Withdrawal Bill unless an agreement is reached.
Both sides have reported progress in negotiations but no details have been given.
Lord McConnell told BBC Scotland: "The secrecy of these discussions, the way in which egos and ideology have been allowed to override common sense has got us in a ridiculous situation.
"The bill has gone through the House of Commons, it's about to go to the House of Lords and we still don't have clarity on what is going to be devolved and what is going to be reserved".
'Automatically devolved'
The Labour peer said both governments needed to "bang their heads together" and resolve the dispute.
"In relation to these European powers, the principle should be that it should be devolved unless there is a very specific and clear reason why it needs to be reserved.
"It seems to me absolutely clear that the majority of these responsibilities can be automatically devolved."
The former Labour first minister said it would make sense for the UK and devolved governments to reach common agreements in some areas.
He called for a speedy resolution of the row to allow debate to move on to the details of new legislation on trade, immigration, agriculture and fishing.
Lord McConnell wants flexibility on immigration rules for the nations and regions of the UK.
He is due to take part in a debate on Brexit and devolution in the House of Lords later on Thursday.