Call for Mundell to quit over Brexit bill delay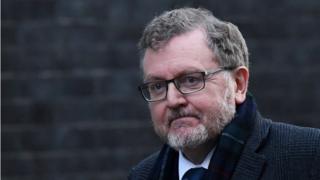 The Scottish secretary has dismissed calls for him to quit over the UK government delaying its plans to amend the Brexit bill.
David Mundell had previously said the bill would be changed in the Commons to take account of the concerns of the Scottish and Welsh governments.
But he confirmed earlier this month that a "lack of time" meant it will now happen in the Lords.
Mr Mundell told MPs that he took full responsibility for the delay.
But he dismissed suggestions from the SNP's Pete Wishart during Scottish Questions in the Commons that he should consider his own position.
Mr Wishart, the SNP's deputy Commons leader, said: "He has accepted full responsibility for not producing these amendments, is he now at a time to think about his own position?"
Mr Mundell responded by saying Mr Wishart had struck a "completely different tone" from the "professional" tone of the Scottish government.
He also told MPs that he took "full responsibility" for not meeting the timescale, adding: "We are committed to amend the bill and amend the bill in agreement with the Scottish government and a Welsh Assembly government."
SNP MP Mhairi Black said the delay - which has also been criticised by prominent Scottish Conservative politicians - meant that peers such as Michelle Mone and Alan Sugar were going to have more of a say on the bill than Scotland's elected MPs.
But Mr Mundell insisted: "The bill will be debated, the clause amendment will be debated in the House of Lords.
"I regret that it's been brought forward in the House of Lords but we simply did not meet the timescale we aspired to.
"There will be further opportunities to debate that amendment in this House and, of course, the Scottish Parliament."
Key adviser
The Scottish secretary also confirmed that Carillion's interim chief executive is standing aside as one of his key advisers until investigations into the collapsed construction group firm concluded.
Keith Cochrane had been the lead non-executive director at the Scotland Office, but Mr Mundell said he did not want to become a distraction from the work of the department.
The SNP and Labour had called for Mr Cochrane to go, arguing that his position as a government adviser was untenable following the collapse of Carillion.