Scottish welfare assessment rights outlined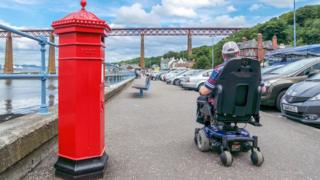 The Scottish government has confirmed that its social security legislation will allow people to have someone with them during welfare assessments.
A bill is currently under consideration at Holyrood to set up Scotland's own devolved social security system.
Social security minister Jeane Freeman said people would have the right to be accompanied during assessments.
The UK government welcomed the announcement, and said this was already the case under the current system.
A spokesman for the Department of Work and Pensions said: "We're very clear that people are free to bring someone along to their assessment, and welcome the move by the Scottish government to uphold this existing right."
The official Health Assessment Advisory Service guidance to applicants under the current system says: "You are welcome to bring a relative, carer or friend to the assessment."
And guidance from Citizens Advice about the current system says: "You can take someone with you into the actual assessment if they're 16 or over. This could be anyone who makes you feel more comfortable, like a friend, relative or carer."
But Ms Freeman said that, at present, assessments "can feel like a barrier to accessing benefits and help", saying the Scottish agency "will not replicate the current system when disability benefits are devolved".
Rights-based approach
She also claimed that: "Under the current system, people who attend assessments aren't able to have someone with them during the assessment."
Ms Freeman added: "I think this runs contrary to our rights-based approach and if we truly want our system to have fairness, dignity and respect at heart then we should give people the right to have a friend or family member - a supporter - with them when they need it.
"This is proof that Scotland will do things differently and one of the first ways we can show people we mean exactly what we say."
The Scottish government later clarified that its user research suggested that "the ability to be accompanied is not being applied consistently in all areas and that where being accompanied is permitted, the person there to provide support is not allowed to participate".
It said the right would be enshrined in law, and that: "There is also an important distinction that our amendment will allow a person accompanying someone to make representations on their behalf."
Holyrood is taking on responsibility for 11 social security powers, including disability living allowance, personal independence payments, carer's allowance and winter fuel payments.
A new Scottish social security agency is being set up to administer these benefits, with its headquarters in Dundee and Glasgow.
The legislation to set up this agency unanimously passed its first parliamentary vote in December, and is now under consideration at committee level.