Almost 500 operations postponed across Scottish hospitals last week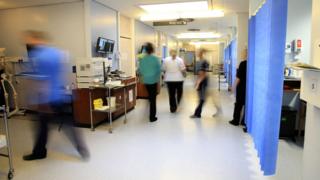 Hospitals across Scotland had to postpone almost 500 non-urgent operations last week.
The figures were gathered by the BBC from health boards across the country.
A rapid rise in flu cases and a spell of severe weather has put additional pressure on the NHS.
Last week, 489 operations were cancelled and due to be rescheduled. This compares with a figure of 704 across Scottish hospitals for the whole month of January last year.
Health Secretary Shona Robison has said some patients may have to wait longer for routine procedures and outpatient appointments.
Last week both she and First Minister Nicola Sturgeon apologised to patients who had faced delays for treatment as a result of winter strain on the health service.
Nicola Sturgeon said NHS Scotland was facing "exceptional" pressures but coping despite difficult circumstances.
BBC Scotland asked health boards to provide a figure for the number of planned non-urgent operations cancelled in the second week in January.
In the NHS Greater Glasgow and Clyde area 149 operations were postponed. For NHS Lothians the figure was 130 and in NHS Tayside a total of 47 operations had to be rescheduled.
The health boards in Orkney, Shetland and the Western Isles, as well as NHS Grampian, did not postpone any operations.
On Monday, Health Secretary Ms Robison visited Monklands Hospital in Lanarkshire to thank staff there for their hard work over the last few weeks.
It has been one of the best performing hospitals in Scotland, routinely hitting the Scottish government's A&E performance target of dealing with 95% of patients within four hours.
But even there, the past few weeks have been a struggle - performance dipped to 80.5%. They had to open 45 extra beds - equivalent to an additional two wards - to cope with the surge in demand.
Advanced nurse practitioner Louise Dass, who has 20 years of experience, said she had never seen anything like it.
"As a nurse, you do sometimes feel overwhelmed," she said.
"We have just had a very high volume of patients coming in. People on trolleys in corridors, in chairs in corridors.
"Obviously staff are working really hard to make sure patients are safe at all times but it difficult when patients are in a corridor and your are not able to keep a close eye on them at that time."
Hospital operations
How many have been postponed?
489
Second week of January 2018
704
Whole of January 2017
A&E consultant Andrew Russell added: "It's been exceptionally difficult, very busy. The entire hospital has been under a considerable amount of stress.
"Everyone sees the emergency department as the frontline of the hospital but that only reflects the difficulties and problems that the rest of the hospital has been under. The whole hospital has pulled together very much as a team to try to overcome the difficulties we've been facing."
In Scotland, there has been no blanket suspension of routine operations as there has been in England.
But winter pressures are still having an impact on routine care.
The health secretary said she accepts that postponing operations will have an impact on waiting times for planned procedures.
Ms Robison said: "What I want to see is the figures beginning to go in the right direction but it is a challenging time particularly at the back of a difficult winter.
"That will have an impact on operations and procedures, on outpatient appointments and we'll need to see how that manages its way through the system."