MSP pushes for sprinklers in new-build housing blocks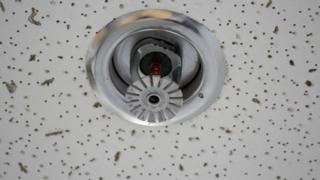 An MSP is to bring forward legislation to have sprinklers installed in all new-build social housing in Scotland.
Labour's David Stewart has launched a consultation on a members bill to make sprinklers mandatory in new buildings.
Inquiries following the Grenfell Tower tragedy showed that hundreds of housing blocks in Scotland do not have life-saving fire suppression systems.
The Scottish government said sprinklers were one of a number of measures being considered in an ongoing safety review.
Ministers launched inquiries into building standards and fire safety in the wake of the Grenfell blaze, which claimed the lives of 71 people in the North Kensington tower block.
A BBC Scotland investigation found that there were no fire-suppression systems in flats in more than 300 high-rise buildings in towns and cities across the country.
The BBC also obtained figures showing that of 15 fatalities and 480 injuries in high-rise fires in Scotland since 2009, only one of the casualties occurred in a flat fitted with a sprinkler system.
Mr Stewart's proposed legislation would place a duty on councils and registered social landlords to install automatic fire suppression systems into all newly-constructed social housing.
A consultation on his members bill will run until 16 April, and will also seek views on what action can be taken to retrofit sprinklers into existing high-rise housing blocks.
The Highlands and Islands MSP said fire safety was a "significant issue" in Scotland, and in particular in areas of socio-economic deprivation where house fires are more prevalent.
He said: "The scandal of Grenfell last summer was that protection was not available to those who were most in need.
"That is why I am making this common sense proposal to ensure all new social housing has a sprinkler system installed. This simple change in law is a practical step that will save lives."
Mr Stewart's campaign has been backed by the British Automatic Fire Sprinkler Association, both over the requirement on new builds and the retrofitting of sprinklers into all high-rise social housing.
Chief executive Keith MacGillivray said the legislation would "make a significant difference to the safety of the Scottish public and firefighters, while ensuring that Scotland's housing stock is more sustainable."
Housing minister Kevin Stewart told MSPs in November that the Scottish government had "gone further on sprinklers than have other parts of the UK", but said the ongoing review would consider the matter "very carefully".
A spokeswoman for the Scottish government said: "Residential sprinklers are one of a number of fire safety measures currently being considered by our review into building fire safety standards chaired by Dr Paul Stollard."