Ineos to challenge Scots fracking 'ban'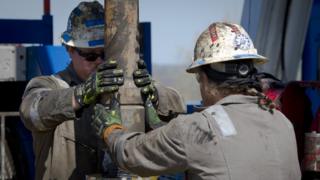 Petrochemical firm Ineos has launched a legal challenge to the Scottish government's effective ban on fracking.
Ministers announced the prohibition in October 2017, and it was subsequently endorsed by a vote of MSPs.
Ineos Shale has applied for a judicial review of the decision, citing "serious concerns" about its legitimacy.
The Scottish government argues that it took a "careful and considered approach" while coming to the decision, with "detailed assessment of evidence".
It first introduced a moratorium on fracking in 2015, while undertaking a series of reports and a public consultation on whether to give permission in future.
Energy Minister Paul Wheelhouse told MSPs last year that this moratorium, enforced via planning powers, would continue "indefinitely" after consultations showed "overwhelming" opposition to fracking from the public.
Labour and the Greens called for the ban to be put down in legislation, but Mr Wheelhouse insisted that the existing method was "sufficiently robust", and ultimately only Conservative MSPs voted against the move.
The development was welcomed by environmental organisations, but slammed by business groups, with Ineos among the most vocal in its criticism.
Ineos, which operates the industrial processing plant in Grangemouth and which holds fracking exploration licences across 700 square miles of the country, said the government's decision was "a major blow to Scottish science and the engineering industry".
Ineos Shale Operations Manager Tom Pickering said the group had "no option" but to raise a legal challenge alongside business partner Reach.
He said: "We have serious concerns about the legitimacy of the ban and have therefore applied to the court to ask that it review the competency of the decision to introduce it."
"Ineos, Reach and other operators have invested significantly in unconventional development over the years, against a supportive regulatory and planning backdrop.
"If Scotland wants to continue to be considered as a serious place to do business, then it cannot simply remove the policy support that attracted that investment in the first place without proper procedures being followed and without the offer of appropriate financial compensation."
'Considered approach'
Mr Wheelhouse defended the government's approach to fracking.
He said: "We have taken a careful and considered approach to arriving at our preferred policy on unconventional oil and gas in Scotland.
"The Scottish government's position was endorsed by the Scottish Parliament in October, subject to completion of a strategic environmental assessment, and follows detailed assessment of the evidence and consultation with the public."
Ineos contends that the studies actually showed that shale gas could be produced safely in Scotland, and pointed to findings that the industry could support up to 3,100 jobs.
SNP MSP Angus MacDonald, whose Falkirk East constituency includes Grangemouth, described the legal action as "extremely disappointing", and said that "people across Scotland made it perfectly clear that they don't want fracking to happen".
Scottish Labour's environment spokeswoman Claudia Beamish said Ineos was "out of step with the public and the Scottish parliament", and Green MSP Mark Ruskell accused the company of "throwing their toys out of the pram" with "a predictable and desperate attempt" to challenge the ban.
Mr Ruskell added: "Scotland doesn't want or need fracking and Ineos should accept they lost the democratic debate in the Scottish Parliament - the evidence was there to ban fracking and that is what Holyrood has done."