Trump Turnberry will no longer get business rates relief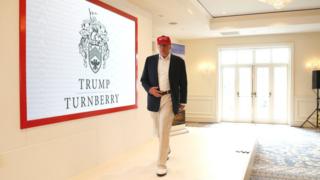 A Scottish golf resort owned by US President Donald Trump will no longer qualify for a controversial tax break.
A change in the Scottish government's recent budget will remove Trump Turnberry in South Ayrshire from a business rates relief scheme.
The Sunday Herald revealed the resort is now above the cut-off point with a rateable value of £1,650,000.
Scotland's finance secretary Derek Mackay introduced measures in February to help hospitality businesses.
The move was in response to growing pressure to intervene to help struggling restaurants and hotels cope with the first revaluation of the rateable value of businesses since 2010.
Mr Mackay faced calls to reform the transitional business rates relief scheme after it emerged in August that Trump Turnberry had benefited by £109,530 for 2017/18.
In response to a wider review of the business rates system, Mr Mackay announced in September that the transitional scheme would continue next year for "all but the very largest hospitality properties".
Documents published alongside the draft Scottish budget earlier this month state it will only apply for hospitality properties with a rateable value up to £1.5m.
According to the Scottish Assessors Association website, Trump Turnberry is now above the cut-off point with a rateable value of £1,650,000.
Mr Trump bought Turnberry in 2014 but stepped away from the family business empire after being elected US president.
His other Scottish golf course, on the Menie estate in Aberdeenshire, did not qualify for relief because it is defined as a golf course rather than a hotel.