Scots online shoppers pay £36m more in delivery charges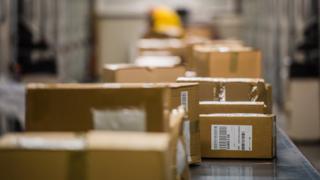 Scots pay £36.3m more per year than online shoppers in the rest of the UK due to "eye-watering" delivery charges, new research suggests.
The Scottish Parliament's information centre estimated the annual cost of delivery surcharges in Scotland relative to other parts of the country.
Moray MSP Richard Lochhead has been leading a campaign for fair delivery charges for more remote areas.
He said the "whopping" £36m figure was "absolutely astonishing".
A study for Citizens Advice Scotland recently found that those living in the north and north-east pay at least 30% more for delivery than consumers elsewhere, with the figure rising to 50% more on average for the Scottish islands.
The Advertising Standards Authority is considering proactive action to tackle excessive surcharges, while UK and Scottish ministers have agreed to investigate cases highlighted by the campaign - such as a £500 delivery fee to the Outer Hebrides for items costing £85.
Mr Lochhead said: "This Christmas will be more expensive for many Scots online shoppers because of parcel delivery surcharges that are applied without any justification to many northern postcodes.
"Many retailers deliver free or for a modest cost but others apply eye-watering surcharges amounting to a whopping £36.3m in extra costs."
Some companies have already agreed to lower charges as a result of the campaign.
When Mr Lochhead raised the matter in the Holyrood chamber earlier in December, business minister Paul Wheelhouse said "systemic change and long-term solutions", which the government was "working hard" too find.
He said there were "no easy solutions to the long-standing problems" highlighted, but said progress was being made, adding: "I hope that we can work together to ensure that this is the last Christmas when customers in the north of Scotland face such prejudice in the online markets."
The matter has also been raised at Westminster, with Moray MP Douglas Ross saying that in Scotland "up to a million consumers pay on average 30% more to have parcels delivered than the rest of the country".
Prime Minister Theresa May told the Tory MP there were "commercial issues" with deliveries, but said the business secretary would be happy to meet him to discuss the matter.