Former Lanarkshire MP Jimmy Hood dies aged 69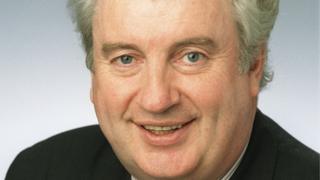 Former Lanarkshire MP Jimmy Hood has died aged 69, the Scottish Labour party has confirmed.
Mr Hood was first elected MP for Clydesdale in 1987, and served as the local representative until the seat was abolished in boundary changes.
The former miner then served as MP for Lanark and Hamilton East from 2005 to 2015, when he lost his seat to the SNP.
Former Prime Minister Gordon Brown said Mr Hood was "a proud defender of Lanarkshire".
Born and raised in Lesmahagow, Mr Hood worked as a mining engineer and became a union official in the National Union of Mineworkers.
He was elected to Westminster for the constituency of Clydesdale in 1987, with a five-figure majority which he maintained for much of his parliamentary career.
During his time in the House of Commons, he was chairman of the European scrutiny select committee for 14 years.
He lost his seat in 2015 to the SNP's Angela Crawley - who was born in June 1987, the same month Mr Hood first took office as an MP.
He and wife Marion had a son and a daughter as well as grandchildren.
Scottish Labour leader Richard Leonard said he was "deeply saddened" by the news of Mr Hood's passing.
He said: "The Scottish Labour movement is in mourning today and on behalf of all of us, I pass on our sympathies to his wife Marion."