Scottish Green MSP seeks 'total ban' on foxhunting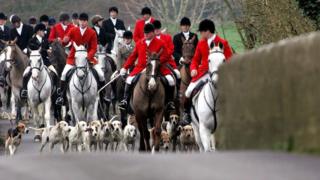 A bid to completely ban foxhunting in Scotland is to be launched by a Green MSP following claims that the current legislation is not working.
The killing of foxes with hounds was outlawed in 2002.
But dogs can still be used to flush out foxes and chase them towards the hunts, where the foxes are shot.
Scottish Green MSP Alison Johnstone said she would bring forward a member's bill at Holyrood that would impose a total ban.
Speaking at a Scottish Parliament event for the League Against Cruel Sports on Tuesday evening, Ms Johnstone said it was clear that the Protection of Wild Mammals Act had failed to end foxhunting.
'Take a stand'
She added: "The practice of 'flushing' foxes with packs of dogs to waiting guns is in many cases hunting with dogs under another name.
"Polling shows most Scots are in favour of a full ban, and I will bring forward a member's bill to deliver one.
"SNP members, like most of the public, have been horrified by recent decisions on puppy tail docking and shock collars. We cannot allow ministers to kick the can down the road on foxhunting. It's time to take a stand."
The current law has an exemption for using dogs to flush out foxes for pest control or protecting livestock or ground-nesting birds.
Mounted hunts in Scotland have since offered farmers, landowners and estate managers a pest control service.
Senior judge Lord Bonomy carried out a review of the legislation last year, which concluded that the law was "unduly complicated" and hindered prosecutions.
He estimated that up to 800 foxes were killed by guns accompanying mounted hunts every year - and that there were grounds for suspecting that illegal hunting may still take place.
Responding to Ms Johnstone, a Scottish government spokesman said it was currently consulting on Lord Bonomy's recommendations.
He added: "We have also established a stakeholder group to develop a new code of practice and assess the feasibility of a new monitoring scheme.
"We remain committed to ensuring the highest welfare standards for all animals, including those in the wild, and encourage everyone to notify Police Scotland if anyone is suspected of breaking the law."
In July, two huntsmen from the Scottish Borders - Johnny Riley and his father, John Richardson - became the first people to be successfully prosecuted for hunting foxes.
The Countryside Alliance, which represents hunts, has previously said it does not believe there is a significant problem with the enforcement of the current legislation.