Scottish NHS waiting times performance at record low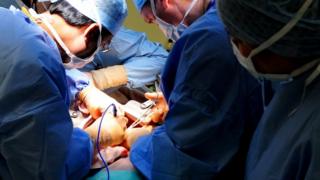 The number of Scottish NHS patients waiting longer than 18 weeks for treatment to begin has reached its highest level in six years.
The latest figures showed that just 81.4% of patients met the referral to treatment target in September.
This was below the 90% goal set by the Scottish government - and the worst performance since the target was introduced in 2011.
There was also a big rise in people waiting for key diagnostic tests.
And the number of people waiting more than the 12 week target for outpatient appointments, and for inpatient and day case treatment, has also increased over the past year.
The Scottish government said it expected the next set of figures, which will be published in February, to show improvement.
But opposition parties claimed the statistics were evidence of the government's "shambolic" running of the NHS.
---
What are Scotland's waiting time standards?
Under the referral to treatment standard, a least 90% of patients should receive all of the following within 18 weeks of being referred to a hospital:
an outpatient appointment
diagnostic test (if required)
treatment (if appropriate)
The 90% target has not been met since July 2014, with a steady decline in performance recorded since then.
Health boards are also required to ensure that patients are seen at an outpatient appointment within 12 weeks of receiving a referral.
And patients needing one of eight key diagnostic tests, including checks for cancer, should receive the test and their results within six weeks of referral.
As well as these standards, the Patient Rights (Scotland) Act 2011 sets out a 12 weeks legal guarantee for inpatient and day case treatment.
Read more about Scotland's waiting time targets here
---
What do the latest statistics show?
Of the 14 health boards who provided valid figures, only three met the 90% referral to treatment target of 18 weeks in September:
The Golden Jubilee Hospital in Clydebank (100%)
NHS Orkney (97.5%)
NHS Western Isles (91.7%).
In NHS Grampian, just two-thirds (66.6%) of patients began treatment within 18 weeks of being referred - the worst performance in Scotland that month.
The figures did not include NHS Tayside, which was unable to provide data because of reporting problems following the introduction of a new patient management system.
The data also showed that:
There were 77,819 patients in the NHS waiting for one of the key diagnostic tests at the end of September - an increase of 19.2% from the year before.
Just under 20% had been waiting more than the six-week target for tests, compared with just 10% in September 2016.
69.7% of patients had been waiting 12 weeks or less for an outpatient appointment - ten percentage points lower than the same month last year.
80.2% of people waiting for inpatient and day case treatment were seen within the legal 12 weeks - a drop from 89.0% last year
---
How is my health board performing?
If you can't see the NHS Tracker, click or tap here.
What has been the reaction?
Health Secretary Shona Robison said the Scottish government is "committed to delivering the investment and reform necessary to ensure our NHS is fit for the changing needs of a 21st century Scotland".
She said an additional £50m had been made available to NHS boards since the spring to reduce waiting times, and a further £4m for projects to introduce innovation in healthcare and improve efficiency.
Ms Robison added: "We expect this improvement to be reflected when statistics for the period between October and December 2017 are published in February, with further improvement still by the spring."
Scottish Conservative health spokesman Miles Briggs said: "With every week that passes, another set of statistics exposes the SNP's shambolic running of our NHS.
"It's well known that the sooner someone starts treatment after being referred, the better their chances of recovery.
"Yet under this SNP government the referral-to-treatment waiting times have plummeted to their worst ever."
Scottish Labour's Anas Sarwar said the NHS was "reaching breaking point due to a decade of SNP mismanagement".
He said the government's "failure to tackle deep rooted inequality in our society" was also to blame.
Gregor McNie of Cancer Research UK said it was "unacceptable" that some people were having to wait so long for diagnostic tests.
He added: "There is increasing pressure on diagnostic services in Scotland as the number of people being referred for tests grows. For example, a national shortage of radiologists is also contributing to delays.
"Some welcome investment in training has been made to make sure the right workforce is in place in the long term.
"But innovative solutions, such as upskilling some workers and introducing incentives for skilled staff to remain in the NHS after retirement, are also needed to urgently address the current backlogs."