Wendy Alexander joins Scottish government advisory panel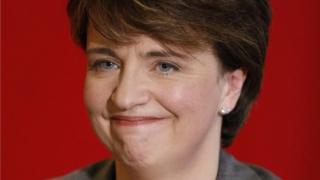 Former Scottish Labour leader Wendy Alexander is to be a member of a new body advising the Scottish government.
The Enterprise and Skills Strategic Board meets for the first time next month.
Its role is to "maximise output" from public sector investment in these areas.
The government said its members come from a broad range of backgrounds, including education, research, trade unions and local authorities.
Other members include Karen Betts of the Scotch Whisky Association, Steven Heddle of local government body Cosla, and Grahame Smith of the Scottish TUC.
Ms Alexander is a vice-principal of the University of Dundee.
As an MSP she represented Paisley North, and led the Labour Party in Scotland from 2007 to 2008.
She previously worked as an adviser to Labour secretary of state for Scotland Donald Dewar and worked on the legislation which established the Scottish Parliament.
'Nation of innovators'
Economy Secretary Keith Brown said the establishment of the board would help ensure the economy gets the most benefit possible from money invested.
He said: "We are rightly proud of our reputation as a nation of innovators. The support provided through this investment is greatly valued and it is important that it is properly co-ordinated, and focused on the needs of users.
"The members of the board have been chosen specifically for their expertise, both in their industrial and geographical areas."
The board will be chaired by Nora Senior, a former chairwoman of the Scottish Chambers of Commerce and former president of the British Chambers of Commerce.
She commented: "It is time for a different way of looking at the enterprise and skills agenda, adopting a fresh approach and responding to changing economic, business and innovation needs.
"With such an ambitious remit, it is essential for the board to feature a range of voices with a depth of knowledge and experience of Scotland's economy. The calibre of members we have invited on to the board is hugely impressive,
"I am confident that together we can build on the strengths of our system of enterprise and skills support, strengthen the links with other skills organisations and wider community to further drive inclusive growth and innovation across the country."