Kezia Dugdale not suspended by Labour over I'm A Celebrity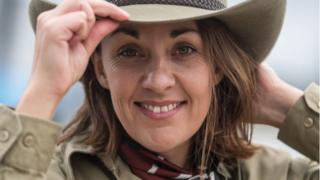 Kezia Dugdale will not be suspended from the Scottish Labour Party over her decision to join reality TV programme I'm A Celebrity...Get Me Out Of Here!
The MSP and former party leader has been the subject of heated debate after agreeing to join the ITV programme.
Ms Dugdale was not given permission by the party to go on leave to Australia during the Holyrood term.
But a meeting of MSPs on the Scottish Labour group concluded that she "would not face suspension".
New leader Richard Leonard had previously said he was "not persuaded" that his predecessor should be punished in this manner, despite his own "personal disappointment" and strong criticism from others in the party.
Lothians MSP Ms Dugdale has arrived in Australia and is expected to make her debut on the programme this week.
She is expected to be paid tens of thousands of pounds, part of which she will donate to charity, along with her MSP's salary for the three weeks she is away.
Scottish Labour business manager James Kelly said the MSP group had discussed Ms Dugdale's "unauthorised leave of absence from her parliamentary duties", but had decided against sanctioning her in the immediacy.
He said: "Today, the group concluded that Kezia Dugdale would not face suspension.
"In accordance with standard procedure, Kezia Dugdale will be interviewed on her return to parliament and have the opportunity to present her account of events."
Criticism of Ms Dugdale has chiefly come from within her own party, with fellow MSP Neil Findlay calling the decision "ludicrous" and MP Jess Phillips calling her a "hypocrite", given she previously called Tory MP Nadine Dorries "daft" for going on the show.
First Minister Nicola Sturgeon said it was not something she would want an SNP MSP to do, but also Tweeted that she was on "#TeamKez".
Ms Dugdale was defended by her partner, the SNP MSP Jenny Gilruth, who told reporters at Holyrood that she was "very proud" of her.
She said: "Why wouldn't she use that opportunity to get her views across to millions of people? I think some of the comments have been unfair - it's really hurtful actually that she saw some of that commentary over the weekend.
"She was quite hurt by some of those things but she's taken a lot of spirit from the good-luck messages she's had from lots of people. I think Scotland is rooting for her."