Scottish Labour leader would support England against Scotland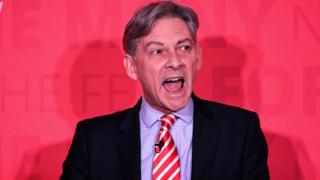 The new leader of Scottish Labour has said he would support England against Scotland in a football or rugby match.
Richard Leonard was born in Yorkshire, but has spent most of his life living and working north of the border after going to university in Stirling.
He told BBC Five Live that the "honest truth" was that "if it's England versus Scotland, I do support England".
Mr Leonard was named Scottish Labour leader at the weekend following the resignation of Kezia Dugdale.
The central Scotland MSP won out in a lengthy contest against fellow Labour parliamentarian Anas Sarwar.
He has set a goal of leading Labour back into government in the next Holyrood elections in 2021.
Asked by Adrian Chiles which team he would support in a football or rugby encounter between the home nations rivals, Mr Leonard replied: "If it's England versus Scotland, I do support England. Every other game I will support either Scotland or England.
"I'm not going to try and make up something which would be inaccurate. That's the honest truth and my wife, who is Scottish, she would bear that out. We watch football together."
During the occasionally ill-tempered leadership race, Mr Leonard defended his birthplace and private school upbringing, saying that nobody should be criticised for where they were born or went to school.
He also told the BBC that "my life's too short" to have a favourite reality TV programme, following criticism of his predecessor Kezia Dugdale for joining the ITV show I'm a Celebrity...Get Me Out of Here!
Scottish politicians have generally sought diplomatic answers to questions concerning football rivalries, with Alex Salmond saying he would not actively "root against" England - although he threw his backing behind their 2006 World Cup group-stage rivals Trinidad and Tobago due to the number of Scottish-based players in their squad.
Former Labour Prime Minister Gordon Brown was criticised - by Mr Salmond in particular - for appearing to back England over his native Scotland while helping launch a bid to host the World Cup.
Raith Rovers fan Mr Brown drew scorn for his enthusiastic backing for England, which also included highlighting a Paul Gascoigne goal against Scotland as one of his most memorable footballing moments.
Another Labour politician, former First Minister Jack McConnell, took the opposite approach, saying he would not support England in the World Cup in 2006 and would instead "enjoy the small teams giving the big teams a beating from time to time".