No permission for Kezia Dugdale to appear in I'm A Celebrity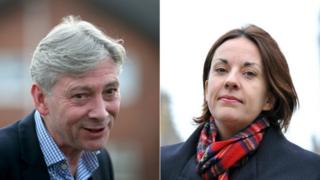 Kezia Dugdale was not given permission to join the cast of I'm A Celebrity... Get Me Out Of Here!, according to the new leader of the Scottish Labour party
Richard Leonard said his predecessor sought authorisation from party chiefs to appear on the reality TV show but it was not granted.
However, he told BBC Radio Scotland he was "not persuaded" that she should be suspended from the Labour group.
Ms Dugdale is expected to join the ITV programme later this week.
News of her controversial appearance in the show broke on Saturday - the same day Mr Leonard was named as the new leader of Scottish Labour.
It provoked a strong reaction from party colleagues and Mr Leonard said the parliamentary group would consider suspending their former leader.
Asked about the row on BBC Radio Scotland's Good Morning Scotland, he spoke of his "own personal disappointment" at her decision to join the programme.
He said: "There are issues not just around the fact that she's there and the kind of programme that it is and people's view of that.
"There's also the question about whether she got permission to do that."
He added: "My understanding is that she sought permission and wasn't given permission."
---
Analysis from BBC Scotland political correspondent Glenn Campbell
Kezia Dugdale is on her way to Australia and is expected to make her first appearance in the jungle over the next couple of days.
Although, as if to add to the intrigue, ITV won't officially confirm that she's joining the line-up for this year's show. A spokeswoman said "any reports around Kezia are pure speculation and we are not commenting on them".
There's not likely to be any comment from Ms Dugdale herself for the time being, as she is now under contract with "I'm A Celebrity".
She's expected to be paid tens of thousands of pounds, part of which she'll donate to charity along with her MSP salary for the three weeks she's away.
A close friend of the former Labour leader said the party's business manager, James Kelly, had told her he could not give her permission to take leave.
The friend said both candidates to succeed her - Richard Leonard and Anas Sarwar - had agreed she could take a break to work on a project that would raise money for charity.
They were not told the project was a reality TV show.
And why is she doing it? The friend said it was a chance to speak about Labour values to an audience of many millions.
---
Mr Leonard said he had not spoken to Ms Dugdale over the weekend.
But he said the Labour group at Holyrood needed to have a "proper discussion" about and whether to take action.
"I'm not persuaded that the immediate step that the Labour party needs to take is to suspend Kezia from membership of the Labour group but I do think we need to have a discussion about it," said.
During the interview, he was also asked about a tweet by SNP MSP Jenny Gilruth, in which she suggested that Ms Dugdale had been the victim of bullying.
Ms Gilruth - who is in a relationship with the Labour MSP - said: "I see @scottishlabour have developed their own unique take on the final day of #AntiBullyingWeek. Huge props, comrades! #TeamKez."
Mr Leonard said he had not seen the tweet but he added: "There was certainly a strong reaction on social media when the news broke on Saturday morning and feelings are running high about it.
"There's no question about that."
The new series of the reality TV show, which is filmed in Australia, began on Sunday night with celebrities including boxer Amir Khan, Hollyoaks actor Jamie Lomas, and Boris Johnson's father, Stanley, among the contestants.
Ms Dugdale's father, Jeff Dugdale, said on Twitter that he expected his daughter to make her first appearance on Tuesday.
Meanwhile, Nicola Sturgeon used social media to give her backing to her former rival, declaring she was "#teamkez" - despite telling reporters that it was "not something I would want to see an SNP MSP do".
And Conservative MP Nadine Dorries, who was suspended from her party when she took part in the same programme, also posted support for Ms Dugdale.
Ms Dorries tweeted that it was "time for party leaders to grow up" and said Ms Dugdale was a "smart lady" - despite the Labour politician having previously criticised her own appearance on the programme as "daft".
Mr Leonard was also questioned about the status of the Labour group on Aberdeen City Council, who are currently all suspended from the party for going into coalition with Conservative councillors against the instructions of the central party.
The group's leader, Jenny Laing, subsequently won the local politician award at the Herald newspaper's Scottish Politician of the Year Awards for the council's efforts to raise money from the capital markets via bonds.
Mr Leonard said the group were "seeking direction" from the party's Scottish executive, which he was now a member of, and said a report had been sent to the UK executive.
He said: "I don't like to see a situation where members of the Labour Party are put outside it.
"But neither can we allow for a situation where a group of labour councillors defy an instruction which was issued by the Labour Party."
Later in the day on BBC 5 Live, Yorkshire-born Mr Leonard said that he would support England against Scotland in a football or rugby match, saying: "If it's England versus Scotland, I do support England.
"Every other game I'll support either Scotland or England. I'm not going to try and make up something, that's the honest truth."