Kezia Dugdale demeans politics with jungle programme, says MSP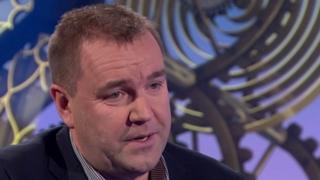 A leading Labour MSP has strongly criticised his former leader for taking part in a reality television show.
Neil Findlay, a prominent supporter of new Scottish Labour leader Richard Leonard, said Kezia Dugdale's participation in ITV's I'm A Celebrity Get Me Out Of Here was "ludicrous".
Mr Leonard has already said Ms Dugdale could face suspension by Labour.
Ms Dugdale has not spoken about the programme, which begins a new series later.
However, it is understood that she intends to donate her parliamentary salary to charity while she is in Australia taking part in the programme.
Speaking on the BBC's Sunday Politics Scotland programme, Mr Findlay said: "I think it's an utterly ludicrous, ludicrous position.
"You have a situation where we're in the run up to the budget in Scotland. Where local government is on its knees. Where the NHS is showing pressures like never before.
"When people's living standards are falling, they expect their MPs, MSPs, councillors and all elected representatives to be in fighting on their behalf.
"I don't think people would expect them to jet off around the world and sit around a camp fire eating a kangaroo's appendage."
The ITV programme is famous for asking its participants to eat unusual items of food.
Mr Findlay added: "I think it demeans politics when people get involved in that. I think we've a very serious job to do.
"People out there are struggling and there's huge pressures on public services. That's the job you should be doing.
"I take my job very seriously, so do my colleagues, and they would expect better."
Mr Leonard, who was elected leader on Saturday, has repeated his comments that he was "disappointed" Ms Dugdale had chosen to take part in the show.
But he told the BBC it was only a distraction "when the media keep asking about it" and said he did not support the "hasty" calls for Ms Dugdale to be suspended.
Mr Leonard spent much of Sunday campaigning in Rutherglen, ahead of a council by-election.
"I'm out here today to speak to real people and find out what their issues are," he said.
"Whether it's precarious employment, whether it's their rents going up, whether their sons and daughters can find work, whether it's older people who are not looking forward to a winter where they'll be living in fuel poverty.
"I suspect these are the real and important issues that people will be speaking to us about when we go round this community today and not about who's in the jungle and who's not."