New Scottish GP recruitment plans to cut workload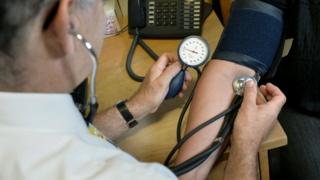 The Scottish government has announced plans to deal with problems in recruiting GPs.
They are part of a proposed new contract for the profession, which aims to cut workload and make it easier to run practices.
The NHS across the UK is having trouble attracting people to become GPs.
Many doctors have stayed away from general practice because of the financial risk of having to buy or lease their own premises.
The Scottish government has now announced a fund to tackle that and has promised to cut bureaucracy so GPs can spend more time with patients and less on paperwork.
If GPs vote to approve the new contract, it will come into force in April next year.
'Right care'
Health Secretary Shona Robison, who is visiting a GP practice in Clydebank to meet staff and patients, said: "GPs tell us they want to spend more time with patients and less time on bureaucracy, while patients say they want better access to GPs when they really need them.
"We have listened and, I believe, we have achieved that balance.
"These changes, agreed jointly with the British Medical Association, will give patients the right care in the right place. Patient safety is at the very heart of this agreement and is the central principle guiding how changes will be implemented."
She added that the Scottish government was also investing in facilities that will offer more doctors the chance to enter the profession.
"We are confident that this contract best supports Scotland's primary healthcare needs while also making general practice an even more attractive employment prospect for doctors," she said.