Nicola Sturgeon questions Alex Salmond's choice of Russian TV channel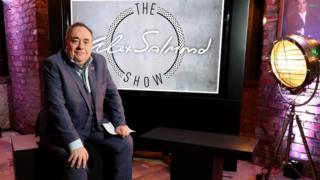 Nicola Sturgeon has said she would have advised Alex Salmond against hosting a TV show on Russian state-funded broadcaster RT if she had been asked.
RT has been described as a propaganda tool for Vladimir Putin's government, but Mr Salmond urged viewers to judge for themselves.
Ms Sturgeon said the channel chosen by her predecessor as first minister would not have been her choice.
And she said she would not shy away from criticising Russian policy.
The Alex Salmond Show will be broadcast on RT - formerly known as Russia Today - every Thursday from next week.
Mr Salmond, who led the SNP for a total of two decades and was Scotland's first minister for seven years, said the programme would include guests from the worlds of politics, business and entertainment.
It will be produced by Mr Salmond's own Slainte Media company, which he set up with former SNP MP Tasmina Ahmed-Sheikh.
In her statement, current SNP leader Ms Sturgeon said she was "sure Alex's show will make interesting viewing".
But she added: "However, his choice of channel would not have been my choice.
"Of course, Alex is not currently an elected politician and is free to do as he wishes, but had I been asked, I would have advised against RT and suggested he seek a different channel to air what I am sure will be an entertaining show.
"Neither myself nor the SNP will shy away from criticising Russian policy when we believe it is merited."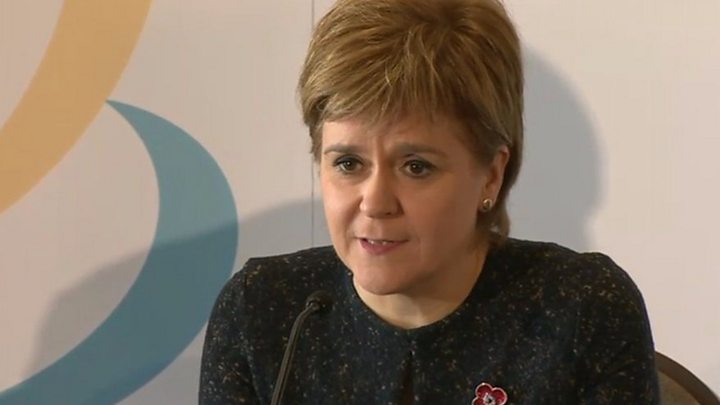 On Thursday, RT confirmed it would be registering with authorities in the US as an "agent of the Russian state" - a description disputed by the broadcaster, which insists it has editorial independence.
An assessment by US intelligence agencies in January stated that: "The Kremlin staffs RT and closely supervises RT's coverage, recruiting people who can convey Russian strategic messaging because of their ideological beliefs.''
'Total editorial control'
Speaking to the BBC's Newsnight programme, Mr Salmond said: "Over the last year or two, 50 Labour MPs - including the current Labour Party leader - 37 Conservative MPs and 17 SNP MPs have appeared on RT programmes.
"It would be a bit strange if I said, now that I'm no longer a member of parliament, that I'm refusing to make my own show with my own production company over which I have total editorial control, which is broadcast on RT."
The former SNP leader added: "It would be a great idea if people watched the show, and if it is a good show and it has high production values and has interesting guests with interesting things to say then they should say it is a good show.
"And if it turns out to be Kremlin propaganda then people can slate me, but why don't they watch the show first?"
The TV show has been inspired by Mr Salmond's recent Edinburgh Festival Fringe show, Alex Salmond Unleashed.
Mr Salmond, who lost his Gordon seat to the Tories in June's general election, also hosts a radio show on the London-based LBC station, and has been linked to a potential takeover of the Johnston Press group, which includes the Scotsman and the i newspapers.
Speaking a launch event in London, he said he wanted to hear from "people of ideas and answers" on his TV programme, and would give guests a platform to explain their ideas before facing questions.
RT says it covers "stories overlooked by the mainstream media, provides alternative perspectives on current affairs, and acquaints international audiences with a Russian viewpoint on major global events."
---
What has been the reaction?
A spokesman for the SNP said it was "entirely a matter for Alex Salmond", and that he was free to take on any opportunities he wanted now he was no longer an elected politician.
The spokesman said the SNP had "regularly expressed concern over actions by the Russian government, including reports of persecution on the grounds of race and sexuality, attacks on journalists and concerns about the integrity of the democratic process, and we will continue to pursue these concerns".
SNP MP Douglas Chapman tweeted at BBC presenter Andrew Neil that Mr Salmond had "probably got fed up waiting for an offer from the UK propaganda machine... you know, the one you work for."
But political opponents have criticised Mr Salmond, with Scottish Conservative deputy leader Jackson Carlaw saying: "It's clear that Alex Salmond's moral compass now points towards Vladimir Putin's corrupt regime in the Kremlin.
"It beggars belief that a man who led Scotland for seven years should be reduced to a puppet of Russia's deeply damaging propaganda unit."
Scottish Labour leadership candidate Anas Sarwar said the move demonstrated an "astonishing lack of judgement" by Mr Salmond, and called on Ms Sturgeon to "condemn this shameful decision".
Scottish Liberal Democrat leader Willie Rennie said the former first minister "fancies himself as the Michael Parkinson of Vladimir Putin's propaganda channel".
The Lib Dems have challenged Mr Salmond to interview opponents of Mr Putin, such as punk band Pussy Riot or Marina Litvinenko, the widow of murdered spy and dissident Alexander Litvinenko.
And LBC presenter Iain Dale tweeted: "I try my best not to slag off @LBC colleagues but I'm going to make an exception.
"I accepted an invite to the launch of @AlexSalmond's new TV show. Just found out it's for RT. Be ashamed, Alex. Be very ashamed."