Tory MSP Adam Tomkins urges Brexit bill compromise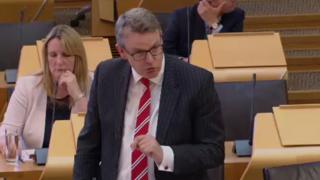 A leading Scottish Conservative has urged the UK government to compromise in its dispute with the Scottish government over the Brexit bill.
Adam Tomkins said the bill will need to be amended in order to win Scottish government consent.
And he said Brexit must be delivered in a way that fully respects the devolution settlement.
The two governments are locked in a dispute over what happens to powers that return from Brussels after Brexit.
The Scottish government argues that powers in 111 devolved areas, including farming and fishing, should go directly to the Scottish Parliament once the UK leaves the EU.
But the current proposal in the EU Withdrawal Bill is for all of those powers to return to Westminster - although the UK government says its intention is for any which are not incorporated into UK-wide frameworks to then be handed to the devolved parliaments.
'Inevitable complexities'
The Scottish government has warned that this would be a "power grab" by Westminster, and has said the Brexit bill would need to be "substantially amended" before it can recommend that the Scottish Parliament approves it.
In an article in the Scotsman, Mr Tomkins argued that there were "inevitable complexities" about Brexit, but devolution does not need to be one of them.
He said: "We need to see movement on both sides to find a solution. Brexit must be delivered in a way that respects devolution.
"Looking at the substance of the 111 powers, many can safely be devolved without further ado; why aviation noise, for example, would need to come under a UK-wide framework I do not know.
"But there are some - a small number in important policy areas - where some sort of common framework will be needed."
Mr Tomkins, who is his party's constitution spokesman at Holyrood, said these frameworks would ensure that rules over product safety and consumer protection remained consistent across the UK - something which he said "all parties" accept will be necessary.
He said talks between the two sides had made "good progress" in recent weeks.
'Straightforwardly achievable'
He added: "This now needs to be accelerated: that is the key to unlocking agreement on the EU Withdrawal Bill.
"The EU Withdrawal Bill has a long way to go before it is enacted, and it will need to be amended in order to obtain Scottish and Welsh consent. All of this is straightforwardly achievable."
But speaking after the latest round of talks between the two governments on Monday, Scotland's Rural Affairs Secretary Fergus Ewing said there had been no progress on arrangements for agricultural, fishing and environmental industries after Brexit.
And Mr Ewing said the Scottish government "remains steadfast in its resolve to defend the devolution settlement".
A spokesman for the UK government said the Withdrawal Bill was "designed to ensure that the UK exits the EU with certainty, continuity and control".
He added: "The UK government has been clear that it stands ready to listen to those who offer improvements to the bill - but we will do nothing that risks undermining the benefits of the UK, such as its internal market.
"We have always said we expect that the return of powers from the EU will lead to a significant increase in the decision making powers for the devolved administrations."