'No Scotland-specific' Brexit analysis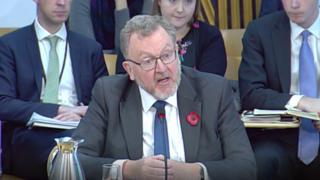 The UK government has not carried out any specific analysis of the potential impact of Brexit on Scotland, the Scottish Secretary has clarified.
The government has compiled Brexit reports on 58 economic sectors, ranging from agriculture and tourism to advertising and telecommunications.
David Mundell told MSPs that none of the reports was specifically about Scotland.
But he said some of the sectors were "very prominent in Scotland".
Appearing before Holyrood's Europe Committee, Mr Mundell told MSPs that, while there had been reports that a Scotland-specific paper existed, this was not the case and it had never been his intention to suggest otherwise.
He added: "There is not a Scotland-specific analysis - there is analysis of these sectors and how they apply within Scotland".
'Scotland's interests'
Mr Mundell was asked by committee convener Joan McAlpine, an SNP MSP, why a specific paper had not been prepared on Scotland.
He replied: "Because the analysis is in relation to sectors that will be impacted on by leaving the EU.
"Obviously many of these sectors are very prominent in Scotland, and therefore Scotland's interests in those sectors are part of the analysis.
"But these are UK-wide analyses of important sectors."
The UK government has previously said it will not publish the analysis papers, arguing that it would not be in the public interest to do so in the midst of negotiations with the EU.
But its Brexit Secretary, David Davis, said last week that the analysis would be shared with the Scottish government, which has been carrying out its own studies into the potential impact of leaving the EU.
Arcane parliamentary procedure
The House of Commons backed without opposition a Labour motion which asked for a "humble address" requesting the Queen to direct Mr Davis to release the documents.
There was confusion during the debate on Wednesday night as to whether the vote, triggered by Labour's use of an arcane parliamentary procedure, would be binding - with speaker John Bercow stating that motions of this kind have "traditionally been regarded as binding or effective".
Mr Mundell was asked by Ms McAlpine whether the Commons vote meant that the "secret" analysis papers would now be made public.
The Scottish secretary said the government was "reflecting" on the vote, and insisted that it respected the decisions of both the UK and Scottish Parliaments.
But he added: "On the other hand the government has a duty to act in the best interests of the United Kingdom, and the government still believes sharing all the information that is contained within these analysis would not be in the best interests of the United Kingdom in terms of being able to carry out these negotiations to achieve the best possible outcome.
"Our position remains that putting these analysis into the public domain would not be beneficial to the interest of the UK as we take these negotiations forward."