SNP probe into sexual harassment concerns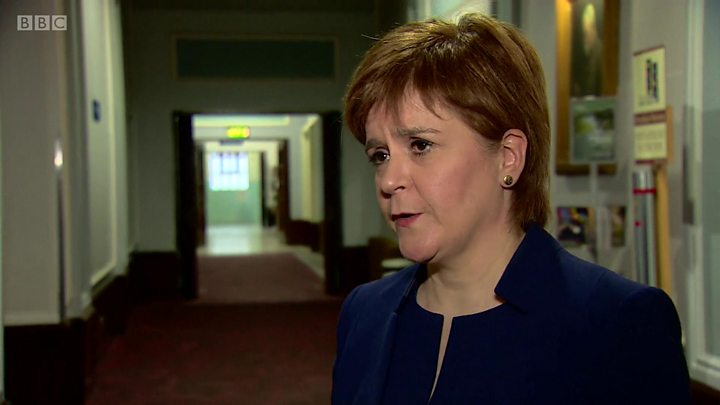 The SNP has begun an internal investigation into complaints about inappropriate sexual behaviour.
The party said in a statement that concerns were raised by two individuals and were unconnected.
Earlier Nicola Sturgeon described claims of sexual harassment at the Scottish Parliament as "unacceptable" and urged a zero tolerance approach.
Ms Sturgeon was talking to BBC Scotland after proposing cross-party talks to examine how best to tackle the issue.
The SNP has promised a full investigation into any allegations of inappropriate conduct.
In a statement it said: "The SNP has had concerns of this nature raised by two different individuals. The individuals and their concerns are unconnected to each other.
"These will be fully investigated but enquiries remain at an early stage.
"We will do nothing to deter people from coming forward and, as such, we will not comment further while investigations are ongoing."
Scottish Labour, the Scottish Conservatives, the Scottish Liberal Democrats and the Scottish Greens said they had not, to date, received any sexual harassment complaints.
The latest developments come after lawyer Aamer Anwar said he had been told of a "catalogue of abuse" against women at Holyrood.
Former Labour leader Kezia Dugdale said she was aware of several female MSPs who had been victims.
Some MPs at Westminster have also been accused of intimidating or propositioning young women inappropriately, with Commons leader Andrea Leadsom responding to an urgent question on the issue by admitting there was a "vital need to provide greater support and protection".
Speaker John Bercow had earlier told MPs there must be "zero tolerance of sexual harassment or bullying" and any allegations of assaults should be reported to the police.
When asked how concerned she was about the allegations that had surfaced at Holyrood, Ms Sturgeon said they were "unacceptable" and that "behaviour of the nature that we are hearing about should not be tolerated".
She added: "Clearly we are hearing about allegations that exist of a spectrum from inappropriate comments and behaviour through to allegations that could constitute serious criminal behaviour.
"But the key point here is that no woman should have to put up with sexual harassment or behaviour or language of a sexual nature that makes them feel uncomfortable in any way."
Ms Sturgeon had earlier written to Scottish Parliament presiding officer Ken Macintosh, saying that any inappropriate behaviour was "absolutely reprehensible and must be addressed".
The first minister said: "We cannot and must not be complacent about the position at Holyrood. We need to do everything in our power to make sure that the Scottish Parliament is a workplace where there is zero tolerance of such unacceptable behaviours.
"In light of these recent developments I would be grateful to learn what additional steps the parliament might consider taking to strengthen the level of reassurance for staff and all others who come into contact with parliament.
"It may be that convening a cross-party meeting would be one way to review the current arrangements and to offer recommendations on how these might be strengthened."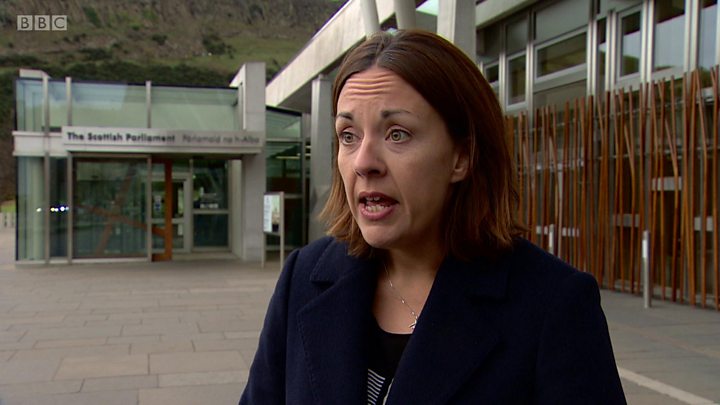 Mr Anwar told the Sunday Herald at the weekend that he had spoken to several individuals at Holyrood, from interns and researchers to MSPs, who had been subjected to sexual harassment.
And the Daily Record newspaper said it had been told of three "creepy" male MSPs who have been accused of intimidating behaviour and making unwanted advances towards women.
'Abject silence'
Speaking to the BBC's Good Morning Scotland programme on Monday, Mr Anwar claimed there was "rank hypocrisy" over the issue at Holyrood, where he said people had "spoken out about Harvey Weinstein and Westminster", but were failing to tackle sexual harassment in their own backyard.
He added: "What stands out for me is, if one notes the newspaper reports and the social media from the last two days, there is abject silence from pretty much all the male politicians on this issue at Holyrood.
"We should ask the question why is that? I think they know that this has been going on... and they haven't done anything about it."
Former Scottish Labour leader Kezia Dugdale, who is now a backbench MSP, said it was "clear that there is a problem here in Holyrood".
She said she had been told by other female MSPs that they had been subjected to inappropriate sexual behaviour, language or gestures from male MSPs.
Ms Dugdale added: "There are several male MSPs I have heard referenced in conversations about inappropriate sexual language and sexual harassment.
"You have to ask yourself, why aren't we hearing these names, why aren't women coming forward? That's about the culture that permeates politics, not just here in Edinburgh but across the whole of the UK.
"Women are scared to raise their hand, they're scared of being labelled trouble, they're scared of not being believed and they're scared of no action being taken, which is why it's high time the parliament took control of the situation to create an environment where women can come forward confidentially and share their experiences."
'Lead by example'
Scottish Conservative leader Ruth Davidson said her party was reviewing its procedures in the wake of the "deeply troubling" allegations.
She said: "Sexual harassment in the workplace is wrong and must not be tolerated.
"Those in positions of power, like MPs and MSPs, have an even greater responsibility to lead by example and show respect for all members of staff."
The Scottish Parliament has insisted that there are already "robust procedures" in place to investigate and deal with any reports of sexual harassment.
A spokesman said: "If any individuals were to witness or experience such behaviour, we would encourage them to report it."