Concern over Holyrood harassment claims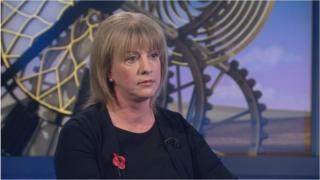 Scotland's health secretary has said she is very concerned by claims of sexual harassment at the Scottish Parliament.
Shona Robison was responding to reports that women at all levels in Holyrood have experienced harassment.
Human rights lawyer Aamer Anwar told the Sunday Herald newspaper that a "number of women" had approached him about the issue.
Ms Robison called on those affected to contact parliamentary authorities.
Speaking on the BBC's Sunday Politics Scotland programme, Shona Robison said it was time the issue was addressed.
She said: "I'm very concerned by the reports that I've read.
"There is clearly a focus at the moment about sexual harassment in a number of institutions and I would find it hard to imagine that the Scottish Parliament is immune from that."
She added: "And what I would say to anybody is that it is really important that these issues are brought out and people obviously should report it to the parliamentary authorities, to the police possibly, and also - if it's a party issue - to the political party.
"We need to bring these things out to the open. Whether it's the Scottish Parliament, whether it's Westminster, whether it's the BBC, it's really important that things, that have perhaps been brushed under the carpet for too long in regards to sexual harassment, these things need to be brought out because clearly it's totally unacceptable that anybody should be faced with that type of behaviour."
Aamer Anwar told the Sunday Herald that he had spoken to several individuals at Holyrood who had been subject to sexual harassment.
Propositioning young women
He said: "It's a catalogue of sexual harassment, stalking, social media abuse, sexual innuendos, verbal sexual abuse, touching, sexual assaults, requests for sex, cover-up, isolation and bullying."
His comments come after some MPs at Westminster were accused of intimidating or propositioning young women inappropriately.
On Sunday, Theresa May called for new grievance procedures.
In a letter to Commons Speaker John Bercow, the prime minister said the current House of Commons disciplinary regime lacked "teeth" and needed to be reformed.
It followed claims about the conduct of international trade minister, Mark Garnier, after he admitted asking his secretary to buy sex toys for him.
Mr Anwar said women at Holyrood had also come up against problems of inappropriate behaviour.
He added: "I have spoken to several individuals who have been subject to sexual harassment.
"This is not just a problem for one party. It is a problem for all parties."
'Women are targeted'
Ms Robison said that while she had not personally been a victim of sexual harassment, it was commonplace for women in political life to face abuse.
She said: "On social media we do all get a level of abuse that as women wouldn't be directed at men, about how we look, what we wear.
"Obviously that isn't as serious as sexual harassment in your day-to-day job, but I think it's part of an issue as a society we have where women are targeted in different ways."
The former Conservative MSP, Mary Scanlon, who spent more then 16 years at Holyrood, said she had experienced the issue in the past.
She said: "Throughout my life, and including being an MSP, comments are made and you don't want to be difficult, you don't want to be too precious, you don't want to be too politically correct, and I think I probably turned a deaf ear and a blind eye to things that maybe, mildly, or just a wee bit more, upset me. And I just thought that's part in parcel of the job."
In response to the revelations at Holyrood, a spokesman for the Scottish Parliament said any allegation of sexual harassment would be taken "very seriously".
He added: "The parliament has robust procedures in place to investigate and deal with any reports of sexual harassment in the workplace.
"If any individuals were to witness or experience such behaviour, we would encourage them to report it."