SNP veteran Jim Sillars calls for 'rethink' on fracking ban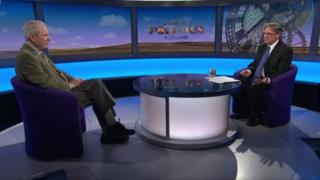 Former SNP deputy leader Jim Sillars has said the party should "think again" on its attitude to fracking.
The Scottish government has announced an "effective ban" on the controversial method of extracting oil and gas.
Energy minister Paul Wheelhouse said consultation on the issue showed "overwhelming" opposition.
Mr Sillars told the BBC's Sunday Politics Scotland programme trade unionists and poverty groups should campaign for change.
He told the BBC: "I think the Scottish public didn't really know that there was a major consultation going on, which allowed the green movement to ramp up to 99% against fracking.
"Joe Stalin used to get figures like that as well."
Mr Sillars said he thought opposition to unconventional methods of oil and gas extraction would cost jobs, and increase fuel poverty.
He added: "It's time to wake up. Trade unionists should wake up. You should be getting resolutions at the Scottish TUC demanding a rethink.
"Poverty groups in Scotland should be demanding a rethink by this government.
"We're in the ridiculous position of having about 900,000 people living in fuel poverty. At the same time, we are taking fracked gas from the United States across to Grangemouth."
Fracking is strongly opposed by the environmental movement.
When the ban was announced, WWF Scotland official Sam Gardner said it was "excellent news", saying "the climate science is clear" that fossil fuels should be "left in the ground".