Charities welcome council tax breaks for care leavers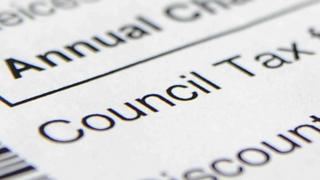 Care organisations have welcomed the council tax exemption for care leavers after it was announced by the first minister.
Nicola Sturgeon revealed the plan at the SNP conference on Tuesday, which will target people under the age of 26.
The Scottish government expects about 6,000 to 7,000 people to qualify for the exemption.
Charity Who Cares Scotland? said the plan was an incremental step towards an overhaul of the care system in Scotland
Chief executive Duncan Dunlop said: "Immediate action to fix current inequalities is a great leap forward."
At least 21% of care leavers become homeless within five years, according to Scottish government statistics, while they are three times more likely to be unemployed than their peers.
'Managing risk'
Mr Dunlop said the announcement was an important step forward but there was much more work to be done.
He said: "The average age of leaving care is 16-18 according to the Centre for Excellence for Looked After Children in Scotland but the law says young people have the right to remain in care until they are 21.
"So, the question arises, what can we do to encourage young people to receive the care they are entitled to.
"Our members feel like they live in a system that takes care of everything for them as a means of managing risk. A system which doesn't reflect the process of growing up in a traditional family home."
Last year, the first minister announced a "root and branch" review of the care system in Scotland, which she said would "be driven by the experience of those in care".
She has accepted a challenge over the next two years to listen to the views of 1,000 young people who have experienced care.
Matthew Reed, chief executive of The Children's Society, said the transition to independent living was a often a major challenge for young people who have been in care.
"Many of these young people have had a really difficult start in life, sometimes involving abuse, neglect, or family breakdown," he said.
"Adjusting to living independently without the family support many of their peers enjoy can be really tough, and managing their finances and juggling bills for the first time is just one of a number of new challenges they face.
"Many either cut back on essentials like food and heating or end up in debt with all the worry and stress that causes.
"Exempting care leavers from council tax doesn't cost a huge amount but it can make an enormous difference to care leavers, giving them one less bill to worry about as they find their feet and begin to budget for themselves."
The Centre for Excellence for Looked After Children in Scotland said care leavers were particularly vulnerable to financial pressures.
"The impact of poverty on care leavers is well documented. One of our main concerns is how council tax debt can escalate quickly, increasing the pressure on care leavers," a spokesperson said.
"This is a huge step in reducing the financial burden on young care leavers in Scotland."