Nicola Sturgeon to attend Arctic Circle Assembly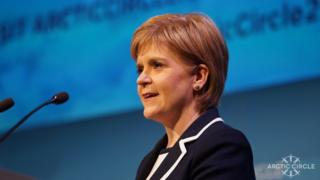 Nicola Sturgeon will seek to bolster Scotland's links with its northern neighbours during a visit to Iceland.
The first minister is to take part in the Arctic Circle Assembly during a two-day trip to Reykjavik.
She will also meet Iceland's president and representatives of the UN Framework Convention on Climate Change.
Speaking ahead of the visit, Ms Sturgeon said Scotland was "helping to lead the way internationally" on climate change.
The environment was also the main focus of Ms Sturgeon's 2016 speech to the conference, which aims to build a sustainable future for the Arctic region, when she announced a link-up between Scottish and Icelandic tourism bodies.
Other speakers at the 2017 event include US senators, UN officials, business leaders and Ecumenical Patriarch Bartholomew I, the spiritual leader of the Eastern Orthodox Church.
The SNP leader will take part in a "dialogue" session at the assembly on Friday morning, chaired by Olafur Ragnar Grimsson, chairman of the Arctic Circle group, before hosing a reception that evening.
'Looking north'
Ms Sturgeon said she looked forward to returning to Reykjavik, and called taking action on climate change a "moral imperative".
She added: "Climate change is clearly an issue that affects us all, and is a policy area where Scotland is helping to lead the way internationally. And the impact of climate change on the Arctic and the wider region, of which we are an important part, is being increasingly felt.
"That is why Scotland will continue to work with others and share internationally our low carbon expertise. There is much Scotland can gain by looking north, and we also have knowledge and insight to share with our neighbours in the region.
"As we face the growing threat of an economically damaging extreme Brexit, it is more vital than ever that we seek to build strong international links, and I am determined to do all I can to build consensus with like-minded nations."
An Arctic Circle Forum on areas of co-operation for countries in the area is to be held in Edinburgh in November.