Nicola Sturgeon says Brexit a 'developing disaster'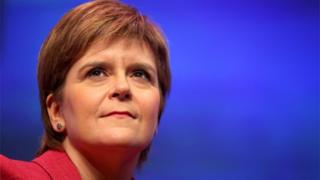 Scotland's first minister has insisted that Brexit is a "developing disaster" despite Theresa May's prediction that the "doomsayers" will be proved wrong.
Nicola Sturgeon told BBC Scotland that the process of leaving the EU had left the UK "engulfed in chaos".
She argued that the case for Scottish independence was getting stronger by the day as a result.
But she again said she would not set a date for a referendum until there was greater clarity on Brexit.
And she said she was "not there yet" in supporting a UK-wide referendum on the final Brexit deal, although she said the case for one may become "more and more difficult to resist".
The first minister was speaking to BBC Scotland as the second day of the SNP conference opened in Glasgow, and ahead of Prime Minister Theresa May updating MPs on the Brexit negotiations.
Mrs May told the UK Parliament that, while "progress will not always be smooth", the country can "prove the doomsayers wrong" over Brexit.
And she described the government's ambition for a "new, deep and special partnership between a sovereign United Kingdom and a strong and successful European Union."
Ms Sturgeon had initially called for a vote on independence to be held in the autumn of next year or the spring of 2019, but later put that timetable on hold until the terms of Brexit become clearer.
And with opinion polls suggesting there has been no surge in support for independence since the Brexit vote, some leading figures within the SNP have called for any referendum to be delayed until after the next Holyrood election in 2021 to give the party time to build a fresh case for leaving the UK.
The party's leader at Westminster, Ian Blackford, told the Guardian that setting a target date for a second referendum was "putting the cart before the horse".
And veteran MP Pete Wishart has argued that the party must first start to craft the "new case for independence 2.0" before it thinks about having another vote.
The independence issue will not be debated by delegates at the SNP conference - although it is expected to feature prominently in Ms Sturgeon's speech.
Ms Sturgeon told the Good Morning Scotland programme that she agreed it would be "premature" to set a date for an independence referendum while there was still so much uncertainty around Brexit.
But she added: "That doesn't mean we shouldn't make the case for independence, build that case and strengthen that case.
"Because increasingly the UK right now is engulfed in chaos, we are seeing a developing disaster, in my view, with the Brexit negotiations.
"And the case for Scotland taking control of our own future, having the decisions that shape our future in our own hands, in my view gets stronger by the day".
The SNP has not yet formally backed calls for a second referendum to be held on the terms of Brexit - but Ms Sturgeon said the case for that "will perhaps get stronger and become more and more difficult to resist".
Ms Sturgeon confirmed on Sunday that her government will pay the so-called "settled status" fee of any EU citizen working in the public sector in Scotland - which could be about £65 per person.
The SNP leader will address her party's conference on Tuesday afternoon, with her finance secretary, Derek Mackay, speaking on Monday.
Mr Mackay used his speech to launch a fierce attack on Theresa May's government, which he claimed was inflicting a "budget triple whammy" on Scotland.
And he called on the Chancellor to lift the UK-wide cap on public sector pay rises.
The party also unanimously passed a motion urging Spain to "respect" the overwhelming pro-independence vote in the disputed Catalan referendum.
Ms Sturgeon has not said whether she would recognise an independent Catalonia, should its government declare independence following the recent disputed referendum, but has called for talks to be held between the two sides to find a peaceful solution.
There will be live streaming from the conference on the BBC Scotland website between 14:15 and 16:15 on Monday and from 10:30 until 12:15 on Tuesday, as well as from 15:00 until 16:30 on Tuesday, which will include Ms Sturgeon's speech.