Career-change bursaries offered to boost teacher numbers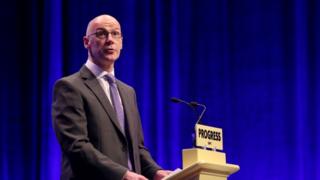 The Scottish government is to offer £20,000 bursaries to people to change career to become teachers in key subject areas.
Ministers are seeking ways to boost recruitment of teachers in science, technology, engineering and maths.
Education Secretary John Swinney made the announcement in his speech to the SNP conference in Glasgow.
He said it was necessary to "reach beyond recent graduates" to attract professionals into teaching.
Several Scottish councils have warned that they are finding it hard to recruit new teachers in science, technology, engineering and maths, the so-called Stem subjects.
Mr Swinney said these subjects were "crucial not just to the education of our children but the future of our economy".
And he said it was necessary to look beyond the traditional routes into the profession, to get people with relevant degrees into teacher training courses.
The deputy first minister said: "We need to recruit more teachers in these subjects. And to do that, we need to reach beyond recent graduates and attract people who have the appropriate subject degree but are working in business or industry.
"These 'career-changers' still need to go through initial teacher education before they can become teachers - we will never compromise on quality - but we can make it easier for them to make that career change.
"And because we understand that they have to balance family and financial responsibilities that new graduates may not face, we understand that the prospect of giving up a salary for a year while they do their teacher training is a real barrier for them."
'Firm foundations'
Scottish Conservative leader Ruth Davidson tweeted that she "thought that post graduate teaching bursary idea was a good one - when we wrote it".
She highlighted her party's manifesto from the 2016 Holyrood election, which called for "supporting the best high-achieving graduates who are interested into getting into teaching, especially in Stem subjects, by introducing a postgraduate teaching bursary".
However, Scottish Labour's education spokesman Iain Gray claimed the policy was put forward by his party.
He said: "Hardly a day goes by now without the SNP U-turning and giving into Labour demands.
"Scotland's schools are blighted with a teaching shortage, with 4,000 fewer teachers since the SNP came to power, and urgent action is needed.
"We welcome John Swinney adopting one of the policies from our 10-point plan for Scotlands schools, and look forward to him seeing the sense of the other nine too."
Elsewhere in his speech, Mr Swinney said the SNP government was "driven by a determination to raise attainment for all and close the poverty-related attainment gap in education".
He insisted the government was "building on firm foundations" saying that while there were "challenges - not least around literacy and numeracy", Scotland has "a fundamentally strong education system".