Sturgeon says government will pay EU 'settled status' fee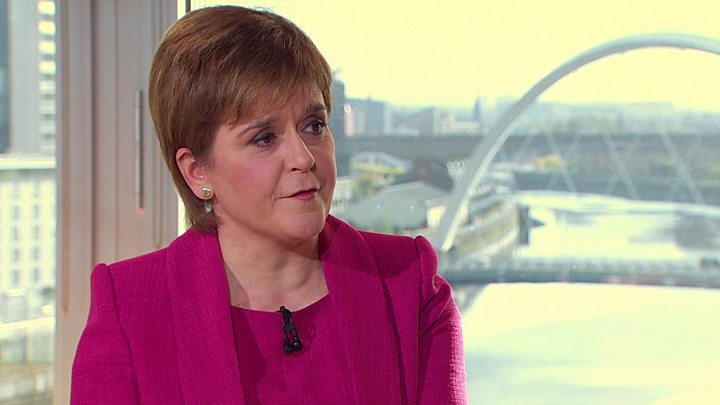 Nicola Sturgeon says her government will pay a so-called "settled status" fee of any EU citizen working in the public sector in Scotland.
Prime Minister Theresa May has offered settled status to EU migrants who have lived in the UK for five years.
However, the UK government has hinted that those applying for the status will have to pay a fee.
Scotland's first minister made the announcement ahead of her party's annual conference in Glasgow.
The three-day conference is the party's 83rd and the first since June's general election, when the SNP lost 21 of the 56 seats it won in 2015.
They included those of former leader Alex Salmond and its deputy leader Angus Robertson.
Speaking on the BBC's Andrew Marr programme, Ms Sturgeon said EU migrants had made a big contribution and their right to remain in Scotland should be guaranteed.
She said: "It appears that the UK government is going to make EU citizens apply for what they're calling settled status and possibly charge a fee for that.
"They haven't said what that fee would be, but if it's the same as it is for residents, it will be around £65.
"We will pay that for workers in the public sector. Why? Because it helps individuals, it helps us keep vital workers in the NHS and public services and it sends a message to EU nationals that we want them to stay here because we welcome them."
Ms Sturgeon also discussed the disputed referendum in Catalonia, but refused to say whether or not she would recognise an independent Catalonia, should its government declare independence.
She told the programme: "What I think has to be recognised is the strength of feeling in Catalonia.
"I think it's now time for dialogue to replace confrontation."
She added: "You cannot simply say the right of a people to choose their future is illegal in all circumstances."
'Right to choose'
When pressed on whether she would back the Catalan leaders, she responded: "We'd recognise the decisions and the statements that were made, but I'm not going to speculate here on what will happen in Catalonia before it happens.
"I'm not in control of that. It's not for me to decide what is the right future for Catalonia."
She added: "My view is that is shouldn't be resolved by both sides going further to extreme positions.
"It should be resolved by both sides coming together to try to find a way forward in this that respects all of these principles - the rule of law, democracy and the right to choose."
Ms Sturgeon will address her party's conference on Tuesday afternoon.
Her deputy and Education Secretary John Swinney opened the three-day event at the SECC by announcing a new system of bursaries to tempt professionals from science, technology and maths subjects into teaching.
He told delegates that with "chaos on the left and chaos on the right, through it all the SNP government stands firm" as "a beacon of progressive, effective government, delivering for all of the people of Scotland".
---
Analysis
By BBC Scotland political editor Brian Taylor
There has long been a dilemma confronting the SNP when preparing for a party conference. Do they yell Freedom and energise the faithful? Or do they ca' canny with the aim of attracting the unpersuaded?
In practice, of course, they customarily offer a bit of both. The issue, then, is emphasis, prioritisation. Thus far, the Glasgow conference defaults rather towards caution.
I think we may reasonably pay little heed to those who point out that there is no formal debate at the conference on independence.
It is not the case - not remotely the case - that the issue of Scotland's constitutional future is being ignored. Indeed, in his opening keynote speech, John Swinney drew huge applause and cheers when he urged delegates to "rededicate ourselves to independence."
It is rather a question of tactics. There is more of an emphasis upon what we might call, for short, the day job.
---