Ruth Davidson tells May's critics 'put up and shut up'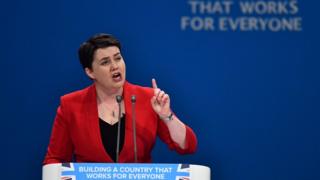 Ruth Davidson has called on Theresa May's critics to "put up" and "shut up".
The Scottish Conservative leader said the party should "get its house in order", back Theresa May and "let her get back to governing".
Foreign Secretary Boris Johnson has also urged colleagues to "get behind" the prime minister.
It comes after ex-party chairman Grant Shapps said about 30 Tory MPs backed his call for a leadership contest.
Speaking about the MPs involved in the criticism, Ms Davidson, who has been tipped as a potential successor to Mrs May, said the calls were not being led by anyone "serious".
She told the BBC's Political Thinking podcast: "I have to say I've not got much time for them. I really don't think that having a bit of a cold ... when you are trying to make a speech, changes the fundamentals of whether Theresa May is the right person to lead the country.
"I think there's an awful lot of people in our party that need to settle down.
"I think if the plotters were serious, they would be led by someone a bit more serious."
She added: "One of the irritants over the last couple of days, for me, particularly as a woman, is this idea that all of these men are supposed to be making decisions on Theresa May's behalf.
"Well, have they actually met Theresa May? This is a woman with agency, with grit, with determination.
"I backed her in the leadership, I back her now and I will back her in the future."
'Incredibly lucky'
Asked what she would say to her party, she added: "I would tell my party to get its house in order.
"Get together, knuckle down and make sure our first commitment, our last commitment and our only commitment is to the country we are incredibly lucky to serve."
Pressure on the prime minister has grown since her party conference speech was plagued by a series of mishaps, as she struggled with a persistent cough and was interrupted by a prankster.
Mrs May has said she has the "full support of her cabinet".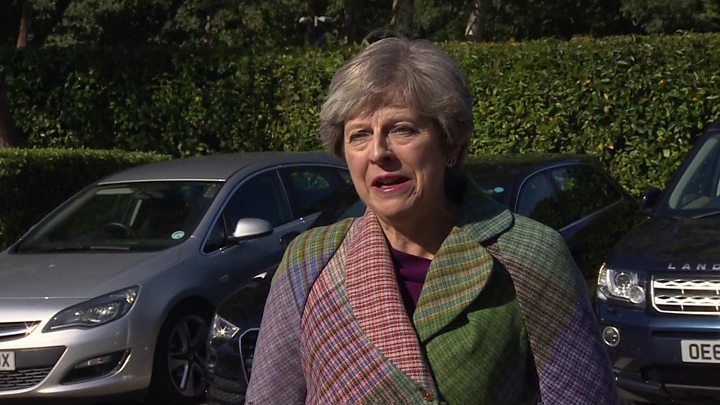 Speaking on Friday, she insisted she was providing the "calm leadership" the country needed.
Thomas Kerr, a Conservative councillor in Shettleston, Glasgow, told the BBC: "I was very, very happy that Ruth stood up for the prime minister. I think it's time we rallied around her [Theresa May] for the country's sake.
"I think to ordinary voters it's what's inside the speech that matters. Everyone can get a cold. The message was there.
"I was pretty happy to hear Boris finally say that he's backing the prime minister.
"I just think it's about time he put his own ambitions to the side and make sure that we rally around Theresa May for the sake of the county because the alternative is Jeremy Corbyn and that is terrifying for people in Scotland."
To trigger a vote of confidence in the party leader, 48 of the 316 Conservative MPs would need to write to the chairman of the backbench 1922 committee.
A leadership contest would only be triggered if Mrs May lost that vote, or chose to quit.
Mr Shapps, who was co-chair of the party between 2012 and 2015, said he believed it was "time we actually tackle this issue of leadership" adding that "so do many colleagues".
However, cabinet ministers, including Environment Secretary Michael Gove and Home Secretary Amber Rudd, were among those who backed the prime minister on Friday.