Brexit bill amendments from devolved governments tabled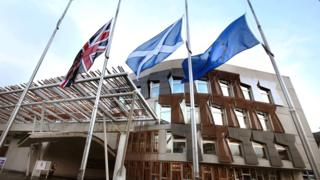 Amendments to the EU Withdrawal Bill drawn up by the Scottish and Welsh governments have been tabled at Westminster.
The two devolved governments jointly drafted the amendments in a bid to avert what they term a "power grab" over their responsibilities.
UK ministers insist that Holyrood and the Welsh Assembly will gain powers.
The move came as Lord Kerr, the author of Article 50, told MSPs that the bill would not pass "in its present form".
The peer also told Holyrood's Europe Committee that he could not see "any negotiable [Brexit] deal for which there is a majority in the House of Commons", suggesting that if MPs cannot come to an agreement "we could be quite close to an election".
'Power grab'
The Scottish and UK governments are locked in a dispute over what happens to powers not reserved to Westminster but currently exercised from Brussels, in areas such as agriculture, fishing and environmental protection.
UK ministers want these powers to come to Westminster in the first instance, before some are incorporated into UK-wide frameworks and others are sent on to Edinburgh and Cardiff.
The Scottish and Welsh governments contend that the original devolution frameworks specified that any powers not reserved to Westminster were automatically considered devolved, thus terming any move to take them back to London a "blatant power grab". They do not oppose joint frameworks, but want them jointly agreed.
A series of meetings between ministers have failed to break the deadlock, and the UK government has now offered face-to-face talks between Prime Minister Theresa May and First Minister Nicola Sturgeon in a bid to resolve the issue.
The Scottish and Welsh governments, which have been coordinating opposition to the UK government over Brexit, jointly drew up 38 amendments to resolve their issues with the bill.
These amendments have now been tabled at Westminster, with cross-party support.
The Scottish government's international affairs spokesman, Stephen Gethins, said they offered "a real chance to put an end to the Tory Westminster grab once and for all".
Top UK ministers have insisted there could be light at the end of the tunnel in talks, with First Secretary of State Damian Green saying he was "cautiously optimistic" after the most recent round of talks.
He said all sides had agreed that "we do not want to damage the UK internal market", saying powers should be brought back from the EU "in a way that protects the UK market and also preserves the spirit and letter of the devolution statement".
'Will not pass'
The amendments were tabled on the same day as Holyrood's Europe Committee took evidence from Lord Kerr of Kinlochard, a respected former diplomat and author of Article 50 of the Lisbon Treaty, which Mrs May invoked to trigger the Brexit process.
He told MSPs that "the parliament will not pass, in my judgement, the bill in its present form".
He said that "retaining powers at the centre" during the Brexit process seemed to him to "fly in the face of the devolution settlement".
The peer said: "If the UK government is saying that on areas like fish and agriculture that it needs to retain powers for a period, and might need to change powers for a period, then I think the idea of devolved blocks of subjects like agriculture or environmental protection, that concept has for the first time been broken, in my view.
"That is why I think that bit of the bill will get changed in the Westminster parliament, because it does seem to me to be fundamentally important."
Lord Kerr also told MSPs that UK ministers had "raised expectations in this country unrealistically" for what can be achieved in the Brexit negotiations, saying that "At some stage it's going to become clear that [Boris] Johnson roaring like a lion isn't actually delivering anything in Brussels".
'No majority'
And he said he could not see "any negotiable deal for which there is a majority in the House of Commons", saying there were "sufficient hard-line Brexiteers to make it very difficult for the PM to compromise sufficiently to get a deal in Brussels".
He said there was "certainly a majority against no deal" - which would see the UK drop out of the EU without a transition agreement and revert to World Trade Organisation rules - and suggested that when the reality of the situation became clear to MPs, "at that stage I think we could be quite close to an election".
Mrs May told the Conservative Party Conference on Wednesday that some had found the Brexit talks "frustrating", but insisted that "if we approach them in the right spirit - in a spirit of cooperation and friendship, with our sights set firmly on the future - I am confident we will find a deal that works for Britain and Europe too".
She added: "I believe it is profoundly in all our interests for the negotiations to succeed. But I know that some are worried whether we are prepared in the event that they do not.
"It is our responsibility as a government to prepare for every eventuality. And let me reassure everyone in this hall - that is exactly what we are doing."