Rennie wins talks with ministers over second Brexit vote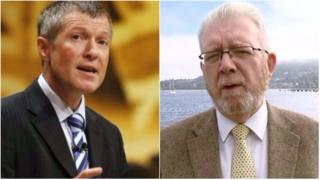 Scotland's Brexit minister is to meet Scottish Lib Dem leader Willie Rennie to discuss backing for a fresh referendum on the final Brexit deal.
Mike Russell is to sit down with Mr Rennie to discuss backing for the Lib Dem campaign for another vote.
First Minister Nicola Sturgeon has said a referendum on the final Brexit deal could prove "hard to resist".
Mr Rennie called the meeting a "welcome step forward", but UK ministers insist they will make a success of Brexit.
Former Scottish Labour leader Kezia Dugdale has also declared her backing for a fresh Brexit vote.
SNP politicians have previously been critical of Mr Rennie for demanding a second EU referendum while strenuously opposing one on Scottish independence.
However, in an interview with the New Statesman magazine, Ms Sturgeon said the case for a second referendum could grow, calling the Brexit process "a complete and utter car crash".
She said: "The very fact that we have no idea what the final outcome might look like suggests there is a case for a second referendum that I think there wasn't in 2014. It may become very hard to resist."
'Build momentum'
In a written reply to a letter from Mr Rennie requesting a meeting, Ms Sturgeon said her government was "fully committed to ensuring that Scotland's interests are protected", saying that she would work "across parties and across sectors" to do this.
Brexit is also set to be a key topic at the SNP conference, with two resolutions to be debated and ten fringe events on the topic organised across the three days.
Mr Rennie said there was "support from across the political spectrum for a clear approach to Brexit".
He said: "There are colleagues across all parties in the UK who support this position and I urge them to join this movement a build the momentum further."
Prime Minister Theresa May has insisted that "the people have decided and we have taken their instruction".
She told the Conservative Party Conference in Manchester: "Britain is leaving the European Union in March 2019.
"I know some find the negotiations frustrating, but if we approach them in the right spirit - a spirit of co-operation and friendship, with our sights set firmly on the future - I am confident we will find a deal that works for Britain and Europe too."