MSPs call for halt to rollout of Universal Credit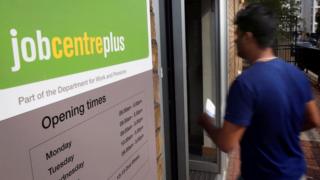 MSPs have voted to formally call on the UK government to halt the rollout of Universal Credit.
The new welfare system, which combines the likes of housing benefit and tax credits into a single payment, was described as "fundamentally flawed".
UK ministers have made some tweaks to the system in a bid to assuage concerns about how long claimants have to wait.
But MSPs voted by 75 to 23 to call on the government to "immediately halt" the rollout due to "clear failings".
Universal Credit is being implemented gradually across the UK, but the process is to be accelerated from October with 50 jobcentres a month to be added.
The Scottish government and local authorities body Cosla penned a joint letter to Work and Pensions Secretary David Gauke saying the system is "fundamentally flawed and causing unnecessary hardship and suffering to families across Scotland".
They said it was "vital" the rollout of the system was halted "until problems are fixed".
During the Holyrood debate, Social Security Minister Jeane Freeman repeated her criticisms of the system, calling the UK government "heartless" and "incompetent".
Her motion for debate said there was "overwhelming evidence" of the "damage" that Universal Credit is causing recipients, saying delays in payments were "pushing people into rent arrears, debt and crisis".
She said her motion gave MSPs the opportunity to show they were on the side of the people as the UK government "shamelessly" continued the rollout.
'Welcome reform'
Government figures show that 23% of new claimants do not receive their first full payment within six weeks. This prompted UK ministers to move to provide some advance payments in response to criticism of this wait.
Conservative MSP Adam Tomkins said the changes meant that if claimants were in need, they could get a payment on the same day.
He said Universal Credit was "the right thing to do" and "a reform to be welcomed", despite some problems with the implementation.
However a succession of members from all other parties joined Ms Freeman in hitting out at the system.
Labour's interim leader Alex Rowley highlighted criticism from charities such as Citizens Advice, saying: "It is fair to say the majority of Scotland is now calling on the UK government to stop the rollout of Universal Credit."
Green MSP Alison Johnstone said there was "severe concern" about the transition, while Lib Dem Alex Cole-Hamilton said it was causing "misery".
SNP MSP Ben Macpherson said Universal Credit was causing "real and significant distress", and social security committee convener Sandra White said it had been "a shambles since its inception".
Amendments from Labour, the Lib Dems and Greens were all agreed before the final motion was passed.
Advance payments
Mr Gauke is due to give evidence to MSPs on Holyrood's social security committee in January 2018.
He told the Conservative conference in Manchester that he had listened to concerns about the system, saying advance payments would be offered up front.
However he insisted that "Universal Credit is working", saying "the rollout will continue, and to the planned timetable".
He said: "We're not going to rush things, it is more important to get this right than to do this quickly, and this won't be completed until 2022.
"But across the country, we will continue to transform our welfare system to further support those who aspire to work."