MSPs: Public sector 'must learn from Oxgangs wall collapse'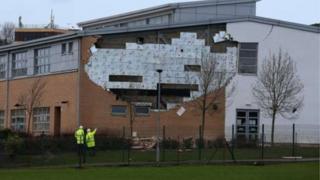 The entire public sector must learn lessons following the collapse of a wall at Oxgangs Primary School in Edinburgh, MSPs have said.
Nine tonnes of masonry fell from the school during a storm in January 2016.
A total of 17 schools across the city were ultimately forced to close amid concerns over building standards.
MSPs said this was "an embarrassment for the construction industry" and said every public body in the country should study the report into the incident.
The collapse at Oxgangs Primary during Storm Gertrude led to closures at 10 primaries, five secondary schools and two additional support needs schools due to fears about poor construction standards, with about 7,600 pupils affected.
Checks and remedial works were subsequently carried out at schools in local authorities across Scotland.
An independent report by architect Prof John Cole found that it was just "a matter of timing and luck" that no children were killed or injured at Oxgangs.
His 250-page report examined exactly what caused the buildings to be unsafe - and made clear that there was a lack of proper scrutiny and supervision by the council and the Edinburgh Schools Partnership that allowed mistakes to be made.
Holyrood's education committee has now recommended that every public body in Scotland should examine the details of Mr Cole's report, and review their own estates in light of his findings.
They said the construction industry in particular should view it as a "starting point" from which to "improve practice right across the industry", and said Scottish ministers should share it with Westminster counterparts to spread the findings UK-wide.
MSPs initiated their own inquiry into the matter, taking evidence from June 2017 onwards.
They said what they heard raised "serious questions about the practices of contractors and sub-contractors", who "cut corners resulting in an unacceptable risk to children and the public in general".
However they said they were was "encouraged" that representative bodies were taking the Cole report seriously.
The committee's report said they were "surprised and concerned" to hear that several schools built under public-private partnership (PPP) schemes had been opened without receiving a completion certificate, saying this was "indicative of a lack of focus on quality by the local authority".
'Change in thinking'
Members also said there were lessons to be learned in how public bodies oversee building projects, saying "rigorous oversight" was needed and warning that some public bodies needed "a change in thinking".
They called on the Scottish government to ensure public procurement guidelines mean "contractors do not compromise safety for the sake of speed or reducing costs", calling for a dedicated clerk of works to be part of every public sector building project.
Committee convener James Dornan said it was "shocking that some of the buildings we have been sending Scotland's children to learn in have not been safe".
The SNP MSP said: "Prof Cole's report provides a clear path to how we can improve and learn from these past mistakes. It is vital that every public body, university and college learn these lessons and ensure that our buildings are safe.
"There needs to be a change in thinking in some local authorities. Responsibility for public safety must be taken seriously and it not something that can be contracted out."