Ruth Davidson warns of Brexit 'over-optimism'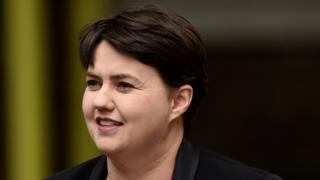 Ruth Davidson has called for "serious people" to carry out the legwork of Brexit negotiations as the Conservative Party gears up for its conference.
The Scottish Tory leader told The Times newspaper she believes "over-optimism" about the the future of Britain outside the EU "sells people short".
Her comments came as Foreign Secretary Boris Johnson intervened again, setting out four "red lines" over Brexit.
He insisted any transition period should not last more than two years.
Both interventions are being seen as putting pressure on Theresa May ahead of the Tory conference which begins in Manchester on Sunday.
In her interview Ms Davidson took aim at those setting out what she sees as an unrealistic prospectus for Brexit.
She said: "I think optimism, positivity is good. I think over-optimism and not recognising that there are practical realities that have to be faced, that have to be worked through and that complexity is not something you just skip over, that you actually have to work through, I think sells people short."
Earlier this month, Mr Johnson insisted Brexit would allow the UK to "be the greatest country on earth" and said it would allow Britain to "take back control" of £350m a week of funding that could help the NHS, a figure that has been strongly contested.
Questioned about Mr Johnson's message, Ms Davidson told The Times: "I don't take issue with optimism. I am quite often accused of having a kind-of, sort-of have-a-go element about myself as well.
"But there is the idea that this is quite hard and it needs serious people to do a lot of legwork and scan the detail to make sure we do get to a place where it will all be OK.
"It doesn't just happen by accident, it requires a lot of hard work and it requires application."
She also said the £350m funding claim "wasn't a figure I recognised".
The Conservative Party conference takes place from Sunday until Wednesday.
Meanwhile, Scotland's Europe minister, Alasdair Allan, has said Scotland's relations with Nordic countries will become more important as a result of Brexit.
During a visit to Latvia, he cited the Scottish government's baby box scheme - modelled on a Finnish initiative - as a "great example" of a policy statement agreed in 2014.
He also highlighted other areas where Scotland could benefit from ties with other nations, such as Norway's expertise in carbon capture and storage, Sweden's bottle return scheme and Finland's action to close the attainment gap.