FMQs: taking the single fish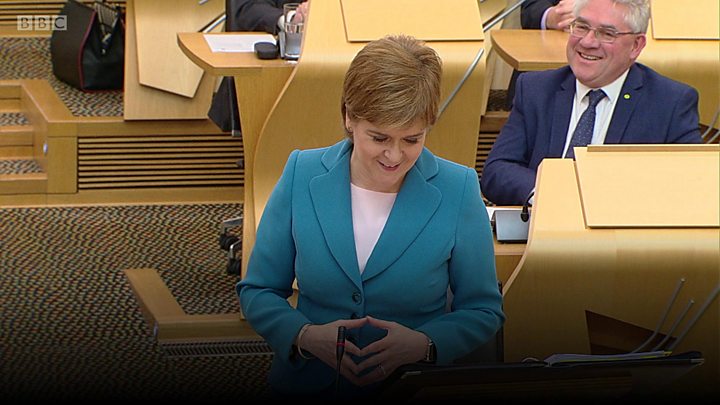 It is common practice for politicians to approach their verbal contests in the chamber with a degree of apprehension.
For opposition leaders, the issue is: what should I ask? For ministers, including the first minister, it is: how should I respond?
For the wicked media, observing from the sidelines, the issue is: will there be anything newsworthy in the exchanges? Or will it just be the usual...piffle?
There now, I nearly landed in trouble. I nearly used the word deployed by a Richard Leonard staffer in ridiculing talk of a left-wing plot to oust Kezia Dugdale from the Scottish Labour leadership.
You know the word? Short. Demotic, if not crude. Starts with p and i. Rhymes with single fish and Lilian Gish. Got it? Good.
A similar conundrum confronted the first minister today. There she was, facing weekly questions. Serious stuff. Substantive.
And, of course, all the wicked media could think about was: would she, could she, tread on Labour's self-bruised toes?
We watched. We waited. The exchanges with Alex Rowley passed without incident. Mr Rowley is Labour's neutral interim leader who was taped voicing firm support for Richard Leonard, ahead of his rival Anas Sarwar.
We were nearing the end. All around Holyrood, members of the w.m. sat in silent, resolute gloom.
But then Mr Leonard himself got to his feet, with the final question. And the FM was off. The SNP fought for Scotland. Labour only fought amongst themselves, in a "selfish and self-indulgent" fashion.
From the Labour benches, ironic cheers and applause, led by Neil Findlay. But the FM hadn't quite finished.
She began to quote the Leonard staffer who had poured such liquid derision on Jackie Baillie's claims of a left-wing plot.
Hastily, the Presiding Officer Ken Macintosh intervened. But, in truth, Nicola Sturgeon had already come to a stuttering, chuckling halt, her satire quota expended.
But, of course, it must all seem rather less than a source of innocent merriment for those inside the Scottish Labour Party.
Alex Rowley, in particular, looked notably emotional as he was door-stepped with more questions - after the formal exchanges were over. He said he was "gutted" that his private opinions had been recorded while he vowed to continue to serve the party's interests.
Anas Sarwar said he was focused on taking the fight to the SNP. I asked Richard Leonard whether he had been involved in any plot. Sensibly prepared, he said the only one he wanted to oust from office was Nicola Sturgeon.
His opportunity to attempt that may - or may not - come. But, as of today, Ms Sturgeon looked and sounded relaxed while her Labour rivals appeared comfortably numb.