MSPs' expenses up to £16m due to staff increase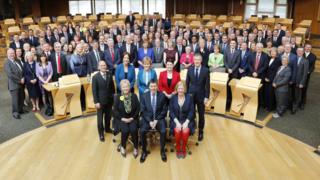 MSPs claimed almost £16m in expenses over the previous financial year, an increase of more than £3m, newly-published figures have shown.
The figures account for staff, office, travel and stationery costs.
Parliamentary authorities put the increase down to MSPs being allowed a third member of staff to deal with Holyrood's expanding workload.
The figures also cover an election year which saw 50 MSPs leave Holyrood, which caused increased "winding up" payments.
All of the expenses data can be searched on the Scottish Parliament's website.
'Increasing demands'
The end of year total for 2016-17 was £15,832,096 - an increase of just over £3m on 2015-16.
Parliamentary authorities said this was chiefly due to an increase in staff salary provision, which increased from £62,300 to £85,000 per member from May 2016 to let MSPs employ three rather than two members of staff.
A spokesman for the Scottish parliament said this "reflects the increasing demands being made on MSPs and their staff as the parliament assumes significant new powers over tax and welfare".
He added: "To be clear, this is funding to enable MSPs to employ up to three full time staff, instead of two, so they can better meet the needs of constituents, scrutinise the parliament's new powers effectively and continue to hold the government to account."
The total also includes more than £1.6m in costs for winding up the offices of departing MSPs, with dozens of members leaving Holyrood at the 2016 election.