Tory MSP faces sanction for failing to declare interests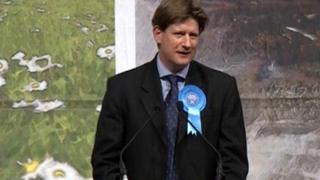 Holyrood's standards committee wants a Tory MSP banned from writing questions to ministers for two weeks after he again failed to declare his interests.
Alexander Burnett saw the standards committee unanimously rule against him for the second time in two weeks.
The Aberdeenshire West MSP was found to have submitted a written questions without flagging up business interests.
MSPs will have the final say on Mr Burnett's punishment, but the committee recommended a ban on penning questions.
The same committee admonished Mr Burnett for failing to declare financial interests two weeks earlier, and warned that any repeat offence would see them impose sanctions.
The latest complaint was submitted by Christian Allard, a former SNP MSP who lost his North East regional list seat in May 2016 - the same election which saw Mr Burnett head to Holyrood.
Mr Burnett is the director and chairman of a property development and letting company in Banchory, and the owner of what he describes as a "property leasing and forestry undertaking". He also owns an estate with a market value of about £10m.
Mr Allard, now an SNP councillor, submitted a complaint after the Tory MSP submitted five written questions about plans for an Aberdeenshire development by another property company in August 2016.
Mr Burnett insisted he had no conflict of interest in the case, but the Commissioner for Ethical Standards in Public Life in Scotland concluded that he had "a declarable interest by virtue of his registered financial interest".
Convener Clare Adamson said members unanimously agreed that the latest breach "justifies the imposition of a sanction on Alexander Burnett".
She added: "The final decision on whether to issue a sanction lies with the parliament. The committee will recommend that Alexander Burnett be prohibited from lodging parliamentary questions for written answer for a period of two weeks.
"I would like to take this opportunity, on behalf of the committee, to remind all MSPs that they are obliged by law and by the code of conduct to make the appropriate written and oral declarations if they have a declarable interest before taking part in any proceedings of the parliament."
Mr Burnett has previously claimed that complaints against him from SNP representatives are an attempt to "impede my abilities to represent my constituents and waste public time and money".
He insisted that he had "no financial interest in the success or otherwise of the development" concerned, saying he had raised questions "on the direct request of a group of constituents".
In his response to the commissioner, the MSP said that "if any credence is given to this complaint, it is so tenuous that it would prevent any MSP who has ever, or is ever considering buying or building a house from commenting on any housing application in Scotland".