Labour leadership: the Rowley tapes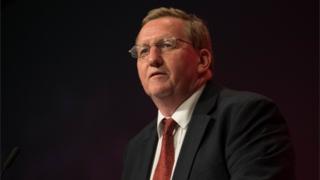 In the conference hall, Jeremy Corbyn's speech provoked near ecstasy from some, open adoration from others and, perhaps, faintly disbelieving admiration from others.
As a very minimum, he drew rapt attention. I must confess that I found it a little difficult to concentrate solely on his oration. Taking my cue from The Beatles, it was tricky to "keep my mind from wandering".
Not the fault of the speech, you understand. It was rather good, if a little long by modern standards. Mr Corbyn would win P.G. Wodehouse's Great Sermon Handicap at a canter.
No, my attention was distracted by another concomitant development involving the Labour Party. That being the rolling reaction to the comments made by Alex Rowley in a Brighton conversation which, to the misfortune of the interim leader of Scottish Labour, was recorded.
Not caught up with it yet? The Scottish Sun newspaper helpfully provides a transcript in which Mr Rowley, supposedly neutral as the holding boss, confirms to the surprise of precisely nobody (as the newspaper rightly acknowledges) that he is supporting Richard Leonard to replace Kezia Dugdale.
However, in the recorded chat, Mr Rowley goes on to note that he has thought "for some time" that Leonard, R, was the "best candidate". He adds that they didn't believe Ms Dugdale would "be there in 2021" - the date of the next Holyrood elections.
Further, he discloses that Mr Leonard - not himself, not Neil Findlay - was viewed as "the best person" to lead. This, apparently, emerged from "any private discussions we were having".
By now, Jeremy C. had led a chorus of Happy Birthday to Diane Abbott and was moving on to Brexit. I listened closely as he offered to "guarantee unimpeded access to the single market", without disclosing precisely how - although, to be fair, imprecision on Brexit is not confined to the Labour Party.
But again my attention drifted back to the Rowley tape. What could we learn from this episode? Firstly, it will teach the unexpectedly voluble Mr Rowley to guard his comments when pressed for internal info in a conference queue.
Secondly, we learn - again to the surprise of nobody - that the left in Scottish Labour has been making discreet preparations to take charge of the party, should the opportunity arise.
'Complete betrayal'
But do we learn, as Jackie Baillie MSP suggests, that it is evidence of a "plot" to undermine Ms Dugdale and replace her with Richard Leonard.
Ms Baillie, a supporter of the rival contender Anas Sarwar, goes on to say: "This behaviour by the party establishment is a complete betrayal of the membership and every value we hold dear."
Meanwhile in Brighton, the new model Labour establishment in the person of Jeremy Corbyn was offering to campaign in the centre ground - while adding with a dry grin that he reserved the right to reposition that "centre of gravity" in line, he insisted, with popular wishes.
As he moved onto an analysis of "compassion and collective aspiration", I am ashamed to admit that I found myself thinking afresh about Ms Baillie's comments.
They were strong stuff, you will acknowledge. However, I am not sure we can infer from the garrulous Mr Rowley that there was an active, continuing conspiracy.
There is evidence of preparation and readiness for a change on the part of the Left. And no doubt Ms Baillie would argue that such behaviour was scarcely conducive to unity and, indeed, might be construed as disloyalty.
She goes further, challenging Mr Leonard to disavow any role in the supposed conspiracy. With Mr Corbyn still on his feet - told you it was a long speech - Team Leonard opted to respond, noting en passant that the man himself would not "dignify" the controversy with personal remarks.
Their statement read: "If there were any attempts to undermine Kezia, they did not involve Richard and he knew nothing of them. Any statements that he did are completely false."
Neil Findlay went further, calling the comments "barrel scraping desperation". Another anonymous interlocutor went further still, suggesting they were the "final flailing of a Blairite rump".
'Government ready'
This individual confirmed that there had indeed been sundry conversations at various points involving members of the Left in the party. But that, far from a plot against Ms Dugdale, there was an acceptance, perhaps grudging, that she was apparently there to stay.
The talk was of preparation, not plot. And, it was emphasised to me, Richard Leonard was not involved in any such discussions.
By now, in Brighton, JC was over the last hurdle and well into the final straight, moving well. He was offering "an antidote to apathy and despair". He was declaring that Labour's programme of change and reform must be "credible" and "government ready".
And he was, you will be astonished to learn, pitching his plan to assist the many, not the few.
As noted earlier, a good speech, well delivered. Mr Corbyn looked rather pleased with his own efforts - while repeatedly stressing the role of others. He name checked Shadow Cabinet members - who beamed shyly like favoured offspring.
Back in Scotland, the controversy continued. Still, it can't last for ever. Labour's new leader will be declared on November 18. Jeremy Corbyn's appeal for party unity will, undoubtedly, be heeded thereafter. Won't it?